This past May, Honors Jarrod Mayes (Dec '16) was selected as a finalist for the Fellowship for Change in Design with the Center for Urban Pedagogy (CUP). As he described,
"In May, I applied to the Center for Urban Pedagogy's Fellowship for Change in Design, their star-studded jury selected me as a finalist. Seriously, they are absolute giants in the field! It is extremely humbling that they saw something in my work."
Mayes had just returned from Amsterdam at the time that he applied for the fellowship with CUP. He was briefly at home with his parents in Charlotte while looking for opportunities in New York City. He further explained,
"NYC is pretty much the be all end all for American graphic design of all kinds, but There were very few design agencies in NC that produced work I found interesting, and none at all that specialized in design for advocacy, which is what I decided to pursue."
Just as Mayes was named a finalist for the CUP fellowship, he landed another, even better opportunity. He shared,
"Around the same time, I applied for a full time junior design position at a prestigious but small Brooklyn design studio called Hyperakt. They flew me up for a visit mid May and made me an offer on the spot. I've idolized their work since I was a freshman, and the chance for financial stability and independence sealed the deal. I accepted, and withdrew myself from consideration for the CUP fellowship. The following month was a mad dash of finding a decent apartment, furniture, etc. I started at Hyperakt on June 6th and it has been fantastic so far. We work with a wide range of clients involved in advocacy work, including the Vera Institute, the ACLU, CBMA and more. I consider myself very fortunate. Not only to be working in a field that I'm passionate about, but also to be contributing to causes that I'm passionate about. Incidentally, our studio is right around the corner from CUP. I'm looking forward to hopefully doing some projects with them in the future."
At Appalachian, Mayes was a graphic design major who worked on his Honors thesis, Past Bleed Present, with mentor, Tricia Treacy, Associate Professor of Graphic Design. While a student, Jarrod also worked designing promotional materials for the Honors College.
Photo below pictures Jarrod at the Honors College graduation ceremony in December 2016 sitting alongside his mentor, Tricia Treacy (far right).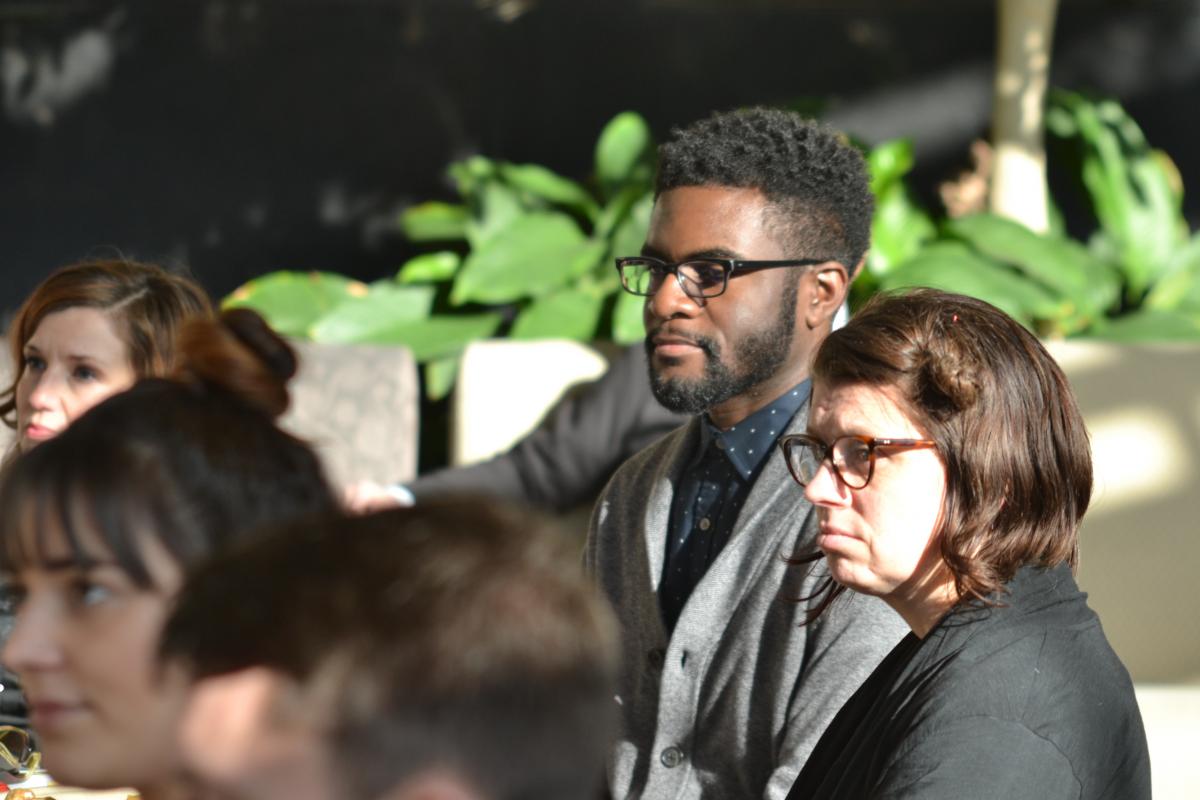 After graduating from Honors at Appalachian, Mayes worked at Appalachian's Turchin Center in Boone for about a year helping to design exhibitions and advertising. In the fall of 2017, he landed an internship with Ape to Zebra in Amsterdam. He was there for three months working on one major project. While there he also also worked on various designs for the University of Amsterdam's Brain and Cognition Department and Spui 25. About his experience in Amsterdam, Jarrod reports,
"I spent time enjoying the city and learning a ton about design (seriously the Dutch are incredible!). Amsterdam is remarkably beautiful and a very easy place to fall in love with. I know that it's a cliché, but the time I spent abroad was pretty life changing, I'm considering making a return to Amsterdam for my graduate degree, but that's a long way off."
With the current success and opportunities in front of him, it is no surprise that graduate school is not his current priority!
Mayes highly recommends the CUP fellowship competition to all design-minded Honors students.
He said, "It's going to be annual from now on, and it's a fantastic opportunity for any student designers/photographers/artists of color who are interested in this kind of work, the folks at CUP are incredible!"
Top photo of Jarrod Mayes at the Honors College graduation ceremony in December 2016. Photo by Shauna Caldwell.
Story by: Garrett Alexandrea McDowell, Ph.D.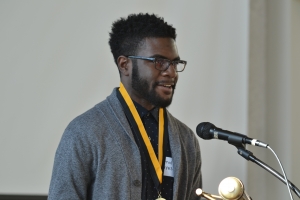 Tags: