Honors Alumnus (May '17) Kevin Goslen has been awarded a post-baccalaureate research position with the National Institute of Environmental Health Sciences (NIEHS) in Raleigh for the 2017-18 academic year. This post-baccalaureate position is part of the National Institutes of Health's (NIH) Intramural Research Training Award (IRTA) program.
This photograph shows Kevin presenting his Honors thesis research at the Experimental Biology conference on April 25, 2017. Kevin successfully defended his Honors thesis on April 12, 2017.
Kevin will begin working in July in the Nucleolar Integrity Group at the NIEHS in the Research Triangle Park. In this lab, he will be conducting structural biology research on proteins involved in ribosome biogenesis, a process with links to cancer and a group of diseases called ribosomopathies.
The following year beginning August 2018, Kevin will be attending the Wake Forest School of Medicine working towards his medical degree. Though he has already been accepted to Wake Forrest School of Medicine, they are allowing him to defer his matriculation to pursue the research opportunity at the NIEHS.
Congratulations Kevin on both of these remarkable accomplishments. Please keep us posted on all you do moving forward!
Story by Garrett Alexandrea McDowell
Photo contributed by Kevin Goslin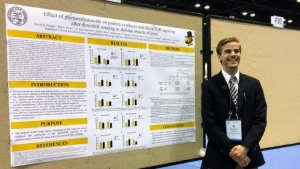 Tags: