Honors College Alumna, Chancellor's Scholar, and artist Lela Arruza '23 has been awarded the 2023 Windgate-Lamar Fellowship by the Center for Craft in Asheville, North Carolina. "Each year, the Windgate-Lamar Fellowship identifies ten graduating college seniors with exemplary skill in craft. Awardees receive $15,000 — one of the largest awards offered nationally to art students." Arruza graduated in May with a Bachelor of Fine Arts in studio art with a concentration in ceramics and a minor in general business. She earned University Honors, as well as departmental Honors from the Department of Art.
Arruza stated,
"I believe that all art majors, whether you are focused on music, theater, dance, or visual arts have experienced varying levels of financial concern for the future. Working in any art-related field is often perceived as a dream goal rather than a realistic future. The Windgate-Lamar Fellowship is one of the largest undergraduate art grants in the country and the Center for Craft works to financially support emerging artists as they engage in the craft community post-college."
The Windgate-Lamar fellowship has made Arruza's study abroad this past summer possible. Arruza traveled with App State's Department of Art to Madrid and Barcelona, Spain, and also independently traveled to Florence, Italy, Vienna and Altmünster, Austria, and Paris, France. In her recent travels, she visited over twenty art museums and took two art workshops, in addition to experiencing the local architecture and culture. Over the upcoming year with the support of the Windgate-Lamar, Arruza will be applying for exhibitions, internships, and residency opportunities.
Photos above feature Lela Arruza's work in various mediums. Photos from Arruza's artist website here.
Arruza is an Asian American artist born in Jiangxi, China, who was adopted and raised in Apex, North Carolina. As an artist, she works in a variety of mediums including clay, paper, and metal. Arruza has been awarded numerous prestigious scholarships and awards, and exhibited her work widely throughout the region. Her identity as an adopted Asian American artist has influenced her art and worldview, motivating her to explore identity and culture through art and craft. She explained,
"Existing in a culture full of stereotypes and prejudice challenged me to ignore preconceptions of what it looks like to be Asian American and encouraged me to shape my identity. My current body of work contrasts the longevity of ceramics and the ephemerality of paper as a medium. While the history of ceramic vessels can be traced back as early as 28,000 BCE, paper artifacts were not preserved as well, therefore, few notable paper works exist today. Each of the vessel forms produced are composed of thousands of individual origami pieces created through a technique called Golden Venture folding. I find myself drawn to repetition and utilize this art form to discuss concepts of comfort and community. The method of Golden Venture folding was popularized in 1993 when a ship called the Golden Venture ran aground in New York. Many of the migrants onboard were from China's Fujian Province, and due to strict immigration policies, they were imprisoned. During imprisonment, many folded and assembled various paper sculptures which were sold or donated to the community. The rich history behind Golden Venture folding contains aspects of craft and community evident in my own work. Each piece I make displays my interest in intricate and clean design, but also focuses on exploring my own identity and place within my community."
Arruza completed her Honors thesis, "Torn & Folded: Finding Identity, Community, and Healing Through Paper Craft" using Golden Venture folding under the directorship of Phyllis Kloda, professor in the Department of Art. Dr. Audrey Fessler, lecturer in the Department of English and Watauga Residential College served as second reader. Arruza presented and defended her thesis project with an exhibit in the Looking Glass Gallery this past April.
About her experience in the Honors College at App State, Arruza shared, "Taking the initiative to be involved in the community of students and professors has really made a difference in my college experience." She offered the following advice to other Honors College students, and specifically artists, "I recommend utilizing the amazing resources the Honors College and professors provide. Be active in asking questions and looking for opportunities. Every professor I've sat down with and talked to about my work has jumped at the chance to share about scholarships, fellowships, or residency opportunities."
She further offered,
"My Honors education encouraged me to try. Don't be afraid to apply to something because you're not sure about the results. Taking the time to fill out an application can change your life. When I filled out the Honors College portion of the App State application for admission my senior year of high school, I had no idea I would be granted the opportunity to be a part of the Chancellor's Scholar cohort. Similarly, this Windgate-Lamar fellowship is the result of hard work, but it also took courage to submit my application."
Arruza learned about the Windgate-Lamar Fellowship opportunity from Frankie Flood, associate professor in the Department of Art, who was her art seminar instructor. The application for the Windgate-Lamar Fellowship is open to undergraduate seniors who seek to enter the craft community upon graduation. Universities across the country may nominate two graduating seniors for the fellowship each year. In order to be considered as a nominee, Arruza filled out an application and requested teacher recommendation, which required a separate review process by the Department of Art. After being selected as a nominee, she then submitted an art portfolio along with several essays, recommendation letters, and a timeline and budget to the Center for Craft. Overall, the application process, beginning with University nominations and ending with final notification of the award, lasted from November 2022 - April 2023.
The Windgate Lamar fellowship seeks to support this exact type of courage and hard work that Arruza exemplifies. As the Center for Craft website explains, "The Fellowship instills confidence and fosters bravery to take risks and the chance to seek and engage in career-enhancing opportunities." Arruza shared that, "moving forward as an artist, I plan to continue researching and applying for more grant and residency opportunities."
Top photo of Lela Arruza. Photo submitted.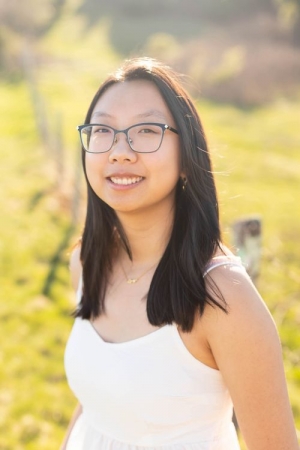 Tags: