This fall semester, Honors Alumna Madie Armstrong ('17) began work towards her doctorate in sociology at the University of Arizona (UA). Th Ph.D. program at UA is ranked as one of the 25 best programs in sociology in the country. Armstrong received the prestigious Graduate Access Fellowship and a Social Behavior Sciences Fellowship, in addition to a graduate assistantship, to support her graduate work at UA. Armstrong was also selected as a research assistant, working with Dr. Jennifer Carlson on her book project on justifiable and negligent homicide. She plans to study the criminalization of trans people in her own dissertation research.
At Appalachian, Armstrong majored in Political Science with a Concentration in American Politics, and minored in sociology. She co-founded the Appalachian State University chapter of the Association for Women in Mathematics, and served as that organization's vice president. Armstrong explained how the Honors experience prepared her for graduate school:
"Being able to participate in Honors seminars unrelated to my areas of study really helped me to become more nuanced in my thinking. Also, having the opportunity to complete an Honors thesis helped me to solidify my interests (which I found to actually be outside of my major) and gain the research skills necessary to allowing me to hit the ground running on projects in my graduate program."
For her Honors thesis, Challenging Normative Representations of Women's Sexual Agency in American Television, Armstrong worked with Dr. Ellen Lamont, assistant professor in the Department of Sociology as her first reader and with Dr. Michael Dale from the Department of Leadership and Educational Studies as her second reader. Dr. Lamont shared,
"I had the honor of working with Madie through the entirety of her undergraduate career. I served as her professor for three courses from the freshman to senior level, and was her honors thesis advisor. Given my experiences with Madie, I feel confident that she will thrive in both a PhD program and an academic career. She is both rigorous and nuanced in her thinking, demonstrates strong research and writing skills, and is a joy to work with. She consistently demonstrated her strength as an independent thinker and a top rate scholar and I can't wait to see where she ends up!"
Armstrong offers the following advice to current Honors students about how to get into graduate school,
"1) Apply to a wide range of schools (if financially possible) because someone might really like your research ideas and admit you to a school you thought was slightly out of reach, 2) have someone in the field read over drafts of your application materials (multiple times if possible) before you send them in and then actually accept and use their edits because they know what they're talking about, and 3) pick a research area that gives you life and pursue it even if some people don't think it's worthwhile, because things you care about are meaningful and someone will care about them."
Thanks for sharing, Madie and CONGRATULATIONS! We in the Honors College look forward to following your growth and success.
Top photo shows Armstrong at the Honors College Graduation Ceremony in December of 2017.
Photo and story by: Garrett Alexandrea McDowell, Ph.D.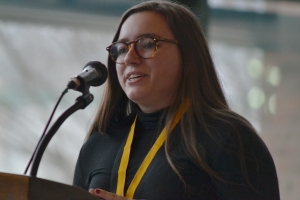 Tags: