Honors Shelby Reagan spent a month this summer in Madrid, Spain, and described it as a life-changing experience. She explained,
"I was reminded why I joined the Honors College: to be surrounded by excellence, to achieve more than just what is expected, to experience new and unique opportunities that I might not otherwise be afforded, and most importantly, to better myself both as a student and as a member of society. It may sound cliché, but studying abroad in Spain changed my life. I am reminded of how much the world has to offer, and I am humbled at the realization that I will never stop learning."
Photo above is from El Parque de Buen Retiro in Madrid. Photo submitted.
Reagan is a rising junior political science major who is minoring in Spanish. On this study abroad she had the opportunity to live with a host family while taking two Spanish courses, one language conversation and one cultural elective. She described,
"Madrid became my home for an entire month. I stayed with a family who knew very little English, ate authentic Spanish meals, went to classes and on side trips with other ASU students who I had only just met, and saw parts of the city that were well off the typical touristy path. This trip was not only a learning experience in Spanish culture and language within the classroom, but also in the streets, in my host home, and in every waking moment I spent in the beautiful country of Spain."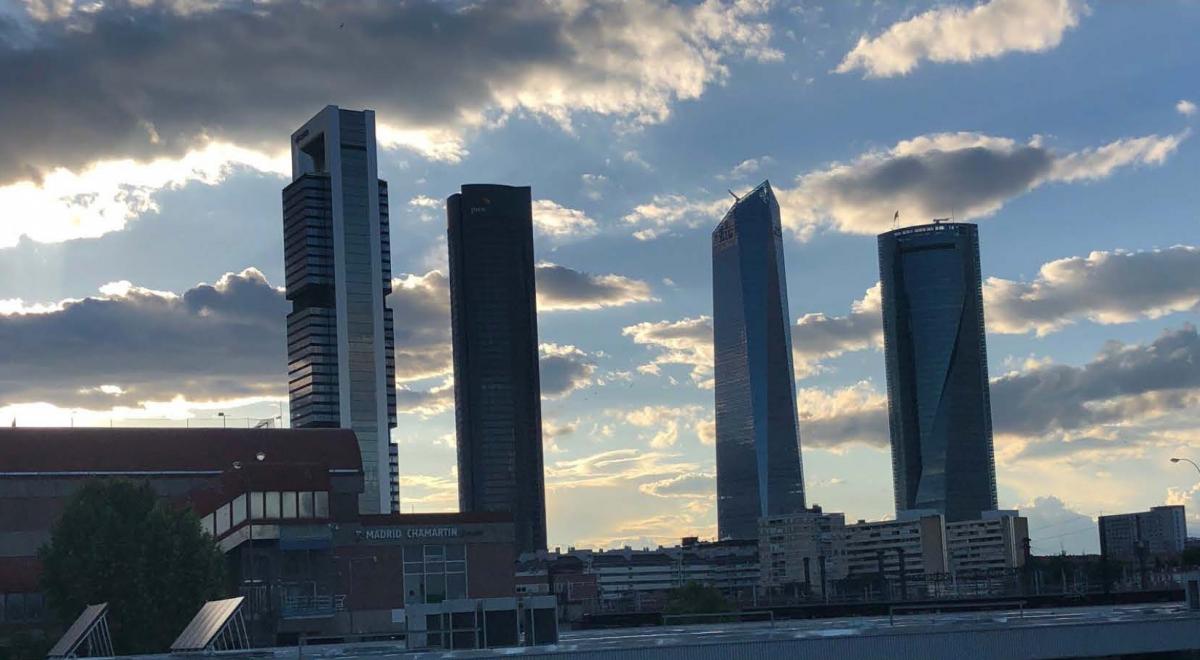 Photo above pictures Cuartro Torres in Madrid, which Reagan passed on her commute to class every morning. Photo submitted
This is a faculty-led study abroad program run annually through Appalachian State University's Department of Languages, Literature, and Culture. The program description reads,
These courses, the excursions, the out-of-classroom cultural activities, and the lodging arrangements with selected Spanish families in Madrid, are planned in order to develop a personal experience with the Spanish culture and history, and to improve the students abilities to interact in the Spanish language.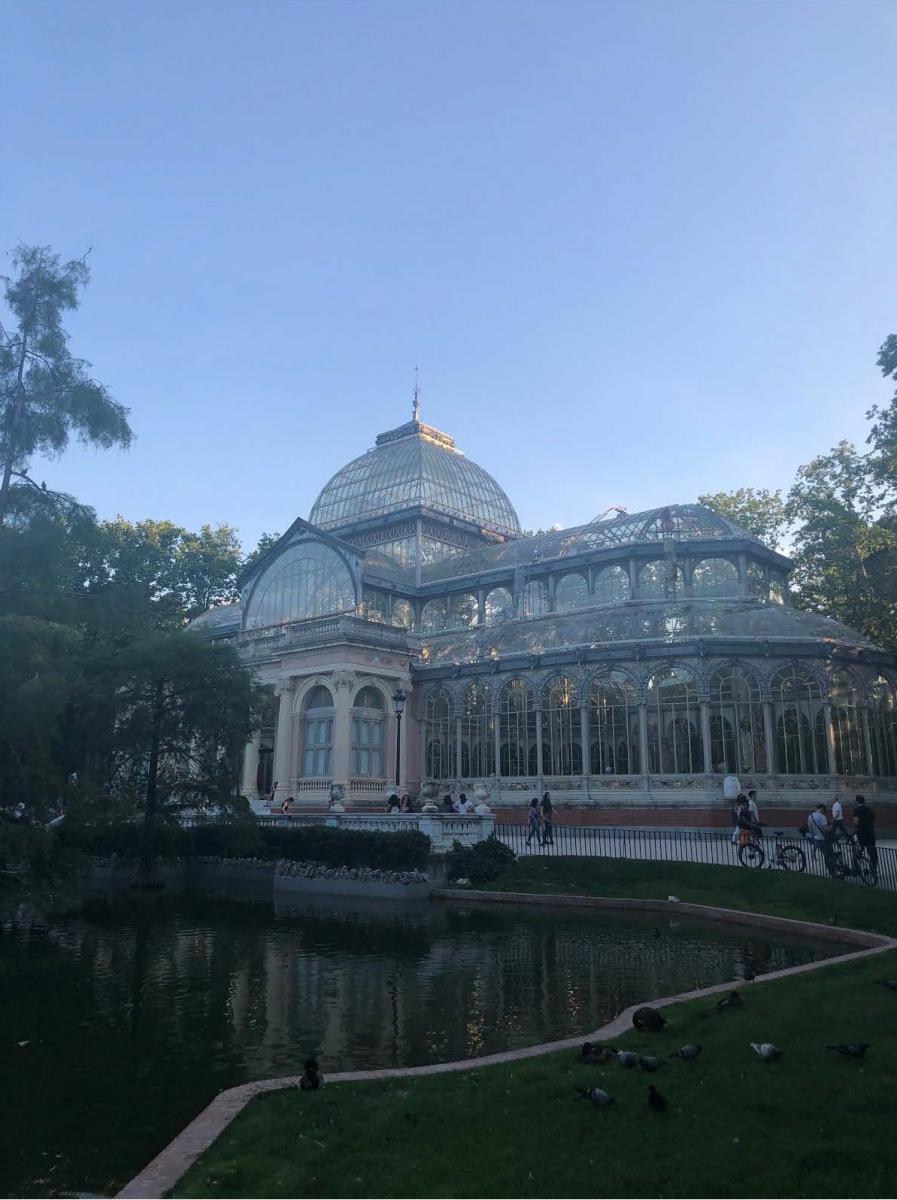 Photo below shows the Palacio de Cristal in El Parque de Buen Retiro in Madrid. Photo submitted.
Reagan valued most the education she received both inside and outside the classroom. She found the reciprocal relationship between the classes and first-hand experiences in the city most challenging and rewarding.
"I try to find as many opportunities as possible to apply what I learn in the classroom to how I experience the world around me, but rarely do the two aspects of my life align as perfectly as they did in the study abroad program in Madrid. I would go to class each morning and learn about the political history and current political climate of the country, then I could go out into the city and literally watch the historical influences and current events play out in front of my very eyes. In the classroom, I had the opportunity to ask questions about the culture and aspects of the government and people that I didn't understand without feeling as though I was drawing away from the lesson, but rather adding to it through my own insight and curiosity. In my conversational Spanish class, I also learned some of the nuances of the language that don't tend to come up when you aren't surrounded by the language like we were in Madrid. I would hear words or phrases that I didn't understand in the streets or on the Metro that I could then ask about in class the next day. Those phrases and words I picked up from locals became some of the most important additions to my vocabulary and understanding of the language outside of the more proper, academic Spanish I have been taught for so many years in American classrooms," she said.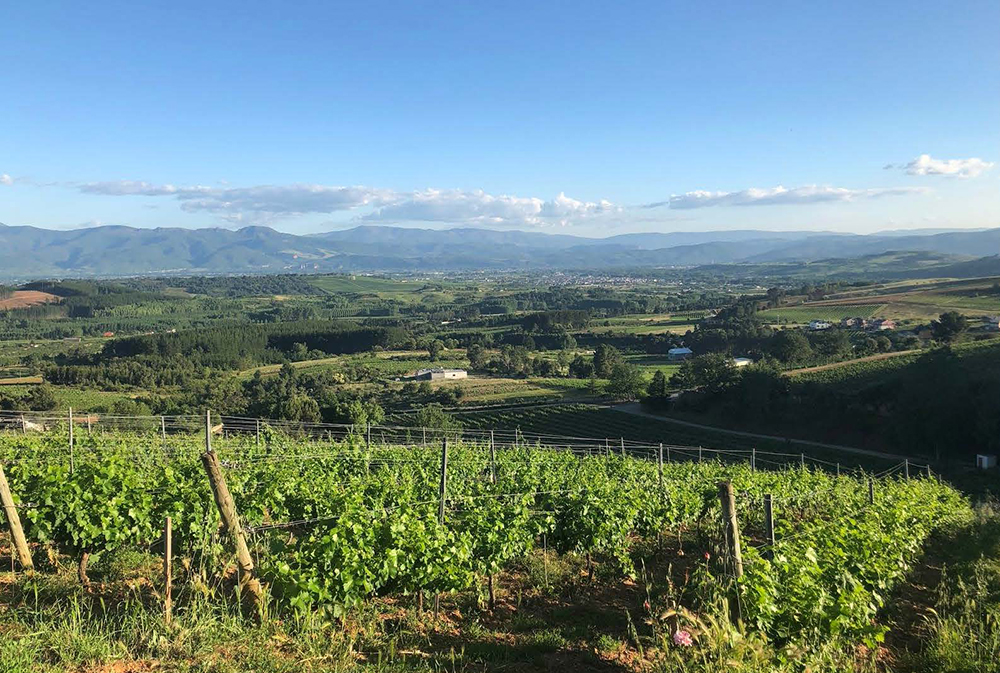 Photo above is the view from the top of the vineyards of Palacio de Canedo in León. Photo submitted
Along with other students in the program, Reagan travled and visited ancient castles and Roman ruins, rolling hills, and the wine country. As she described, they "trekked through tiny villages and along winding mountain paths rivaling those of the Blue Ridge Mountains, swam in freezing rivers where the locals went to cool off, and even had the opportunity to travel to cities and towns in the South." This included a visit to the tiny town of Tarifa on the southernmost tip of Spain where Northern Africa is visible just across the water. Reagan reported that these excursions were "incredible opportunities to create a deeper understanding of the diverse cultures and complicated history of Spain."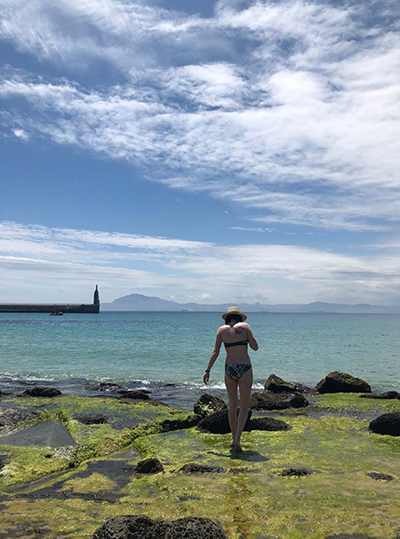 Photo above features Tarifa with views of the Northern caost of Africa in the background. Photo submitted.
Reagan felt right at home in Madrid.
"I couldn't find a single thing to complain about in Madrid. Madrid is fast and efficient, and taught me how to keep up. It's loud and busy, which made listening all the more important. It's crowded and sprawling, but that left so much more room for diversity and new experiences and encounters. Madrid has this eclectic mixture of new and old, yet somehow soaring skyscrapers and ancient buildings rich with history seemed to fit so nicely next to one another. I felt like I fit in better in Madrid than I have anywhere else in my entire life," she said.
Reagan's professional goal is to work in international law and politics and this study abroad experience helped solidify her career path. She hopes to return to Madrid and work there in the future.
Top photo shows Shelby Reagan in front of El Palacio Real de Madrid on May 26, 2018. Photo submitted.
Story by Garrett Alexandrea McDowell, Ph.D.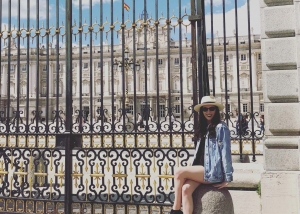 Tags: