Before graduating this past May, Honors Maggie Smith was accepted to the University of Michigan School of Public Health, Department of Epidemiology. She deferred her Fall 2018 acceptance at Michigan when she was offered and accepted a post baccalaureate position at the National Institution of Allergy and Infectious Disease (NIAID). With the NIAID, Smith is currently working to identify possible new malaria vaccine candidates. She will be there for a year or two before beginning the graduate program in epidemiology at Michigan.
"Because of my experience in Honors at App, I know it is always best to look outside your field and that working with people in another field will help make my projects more well rounded," she said.
In Honors at Appalachian Smith majored in Biology and worked with mentor, Dr. Michael Opata, assistant professor of immunology and infectious diseases in the Department of Biology. In her Honors thesis, Smith used mice as a model for human malaria, to enable more research into prevention and treatment of the disease at a time that classic anti-malarial strategies are becoming less effected and the disease itself is growing. The second reader for Smith's Honorss thesis was Dr. Kara Dempsey assistant professor of geography in the Department of Geography and Planning. Dr. Erin Bouldin assistant professor of epidemiology from the new major in public health in the Department of Health and Exercise Science served as her third reader.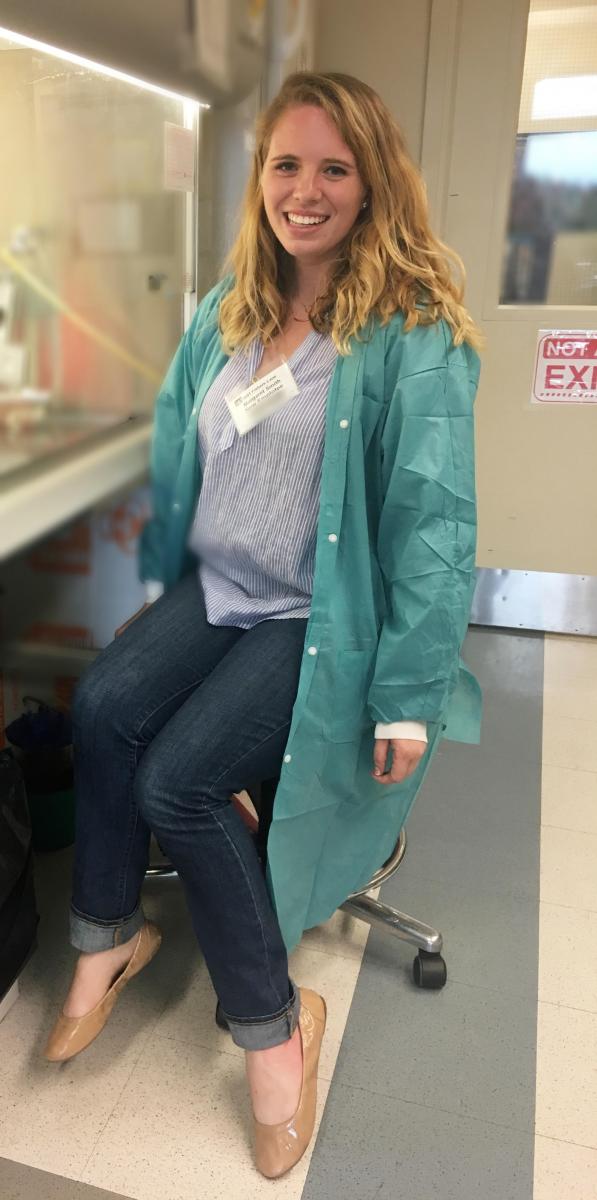 Photo above shows Maggie Smith working at the National Institution of Allergy and Infectious Disease (NIAID). Photo submitted.
Smith was the first undergraduate to present at the Department of Biology's weekly seminar.
"I practiced for 3 months and presented for 45 minutes. Then, I answered general questions from professors in the department," she said.
Following that on March 28, Smith defended her thesis with an audience of over fifty people in the room. This included her third-grade teacher, who gave her the assignment that led her to want to be an epidemiologist, and her high-school teacher, a mentor who nurtured that desire.
Of her overall Honors experience, Smith reflected,
"The best thing I got out of the Honors at App was being pushed out of my comfort zone. As a biology major, I like anything math and science related. However, I took an Honors study-abroad seminar to Austria studying fine arts and music. It is something I would never have thought to do on my own, but that gave me an appreciation of fine arts and how important they are to learning. I also found that when potential faculty mentors found out I was an Honors student they knew I was goal oriented and would be serious in their lab. So that helped me get into my former lab."
After completing her doctorate in molecular epidemiology, Smith hopes to run her my own lab at a major research institution. Though she plans to work mainly with graduate students, she also wants to provide opportunities for undergraduates.
"A research professor at a medical school took a chance on me my sophomore year and I am forever grateful. That experience showed me how much I love doing lab work," she said.
Smith is first author of a manuscript currently under review in the Journal of Infection and Immunity, which is titled "Splenocytes from young mice proliferate and protect immunocompromised mice against death from malaria infection." Smith explained that children under the age of 5 make up 70% of the mortality rates each year from malaria, and that there is currently no mouse model replicating childhood malaria from which scientists could learn why children die at such a high rate. In her research, Smith has created the first mouse model replicating childhood malaria with a 60% mortality rate as well as stunted growth. In this paper, Smith focuses mainly the unexpected findings from this research and model.
While a student at Appalachian, Smith presented research at the American Society of Microbiology (ASM) branch conference in Chapel Hill, and Boone, NC. Two of her posters at the ASM conference won travel awards and provided funding her travel to the conferences. She was also selected as the top ten undergraduate researchers at Appalachian state. Based on her experiences and success, Smith offers the following advice to current Honors students,
"Graduate schools want to see that you are presenting and attending conferences. Grades matter, but if they see you have presented at a big conference then they know you are more than just your normal college student. I advise Honors students to approach professors and ask about going to a conference. Your mentor is a busy person so you need to take responsibility. Find a conference you want to go to and begin preparing. Find out when abstracts are due and write your abstract. Go and find posters in the hallway of your department and reach out to people who have done it before for help."
Story by Garrett Alexandrea McDowell, Ph.D.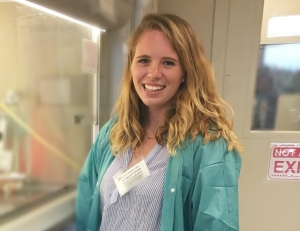 Tags: