If you want to know what good things can come from paying attention to the Honors College web announcements and reading the Honors Wednesday Memo, ask Honors sophomore Maggie Watts. Maggie came to Honors College as a current Appalachian State University first year student in January of 2017. With the support of Honors, she is excelling. Maggie is currently in her final HON seminar (Art and the Brain with Dr. Zrull), and with that, is on-track to have twelve hours or one half of all her Honors requirements completed by the end of this, her fourth semester. The interdisciplinary focus of Honors at App, has helped Maggie find intersections between her interests in counseling, social inequalities, and women's issues. The Honors College also led her to Appalachian's INTERSECT Social Justice Retreat that took place at the Blowing Rock Conference Center January 26-28, 2018.
Here's what Maggie has to share about that experience: "I found out about INTERSECT through an Honors email and decided to apply! As a Psychology and Sociology major with a Gender, Women's, Studies minor, I have always been extremely interested in social issues and inequalities, but had never known exactly how to put these passions into action. For a long time, I have wanted to figure out ways to make a difference in the world, but it always seemed like such a daunting and impossible task. INTERSECT Social Justice Retreat focused on creating a space which allowed us to share, understand, and educate ourselves and others about important topics such as race, ethnicity, sexuality, gender, and other 'Big 8' social identities. It helped us understand ourselves as well as gave us opportunities to learn about different perspectives and become allies for others. We unpacked big ideas like power and privilege and how these should be used as platforms for change rather than systems of oppression. INTERSECT consisted of many important conversations as well as helping us develop the tools and skills needed to bring these back to campus and help spread awareness and create change. INTERSECT taught me that change can happen and it starts with passionate individuals like those of us here at Appalachian wanting to make a difference. I am eager to put what I have experienced into action by getting involved in other Social Justice organizations on campus!"
For more information about Appalachian's for a long time now, go to https://campusactivities.appstate.edu/intersect or contact Campus Activities at
McCaskey Center:
244 Plemmons Student Union
263 Locust Street
Boone, NC 28608
Phone: (828) 262-6252
Fax: (828) 262-6502
Hours:
Monday - Friday: 8am - 6pm
Top photo pictures Maggie with the other members of her small group at INTERSECT Social Justice Retreat. Back row from left: Katie Wolford, Sarai Nolasco, Maggie Watts, Morgan Epperly, and Hannah Frost. Front row left: Audrey Stone, Kaitlynn Gray, and Aneisy Minerva Cardó.
Story by Garrett Alexandrea McDowell, Ph.D.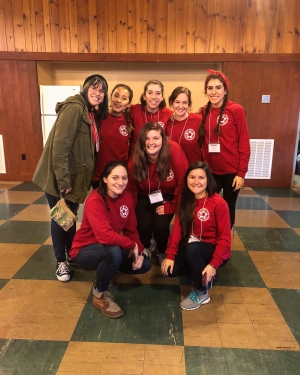 Tags: