By Kistler Hunt
Honors juniors Makenzie Corgan and Sarah Brown have recently presented their research at the 50th annual meeting of the Southeastern Chapter of the American College of Sports Medicine (ACSM). Corgan and Brown attended the Southeast Chapter meeting of ACSM (SEACSM) in Greenville, SC, from February 17 to 19. Corgan is an exercise science major with a minor in chemistry. Brown is also an exercise science major, with minors in chemistry and psychology.
Corgan and Brown both work in the Vascular Biology and Autonomic Studies Laboratory with Dr. Scott Collier, professor in the Department of Health and Exercise Science and director of the Vascular Biology and Autonomic Studies Laboratory. Their research presentations focused on sleep architecture for firefighters and police officers, both of which are occupations that involve high levels of stress. Corgan cited, "The detrimental sleep in these workers is leading to a series of chronic illnesses, such as cardiovascular disease, which is lowering their health and overall life expectancy. We are researching the sleep patterns of these two groups with the hopes of finding significant data that we can present and maybe get some law changes or job adaptations to overall increase their health and reduce the risk for these diseases."
In addition to working with Dr. Collier, Corgan and Brown conducted this research with Dr. Caroline Smith, associate professor in the Department of Health and Exercise Science, Lainey Hunnicutt, lecturer in the Department of Health and Exercise Science, and two graduate students in App State's Exercise Science: Master of Science program. Dr. Collier encouraged Corgan and Brown to submit abstracts to SEACSM in October 2021, and they were accepted in December 2021.
Brown's research focused on the sleep patterns of police officers, which observed differences between officers during the day shift versus the night shift. Corgan's research examined the sleep patterns of firefighters, comparing two groups of firefighters, one of which slept in the barracks at their fire station and the other sleeping in their homes.
Corgan and Brown were two of only a few undergraduate students presenting at SEACSM. They received high remarks from graduate faculty and students at the conference about their research and their positive representation of both App State and the Honors College. Brown states,
"I think it was very clear to everyone we interacted with that we were extremely passionate about the research we were presenting, and that drive is something that I often associate with Honors."
Corgan and Brown both remarked on the fantastic support that the Honors College gave them and how the values of the Honors College have translated in their work at SEACSM. Brown shared an element of this, "The idea that there is always something more to learn is what drove us to ask questions and step out of our comfort zone." Brown and Corgan received Research Funds from the Honors College in support of their conference travel, which as Brown stated, "allowed us to focus our full attention on the conference."
Corgan cites the exemplary support from Honors College Dean Jeff Vahlbusch, "[He] has always been a super encouraging and wonderful person to look up to. He encouraged us from the beginning to work hard and give it our all, and that the experience alone would be rewarding." Finally, Corgan and Brown mention the camaraderie between Honors students and faculty as an experience that is "unmatched."
Both Corgan and Brown are excited at the glimpse that SEACSM gave them into research. Corgan stated, "Both of us want to continue research past graduation, so having this undergraduate exposure only reassured us that we are in the right field." Corgan cited this experience as valuable for her,
"This summer, I will be applying to medical schools, and after this conference, I now know that I am fully capable of interacting and talking with larger groups of people."
Corgan and Brown have plans to attend SEACSM again, as well as the regional conference of ACSM, and will plan to submit their abstracts to the National ACSM conference, which will be held in Denver, Colorado, from May 30 to June 3, 2023.
Top photo features Corgan, left, and Brown, right, at the Southeastern Chapter of the Conference for the American College of Sports Medicine (SEACSM). Photo submitted.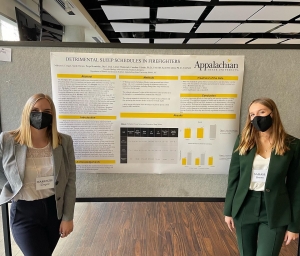 Tags: