Honors senior biology major and Chancellor's Scholar Rachel Jordan has been awarded a National Science Foundation (NSF) Graduate Research Fellowship and will be attending the University of Wisconsin—Madison (UWM) beginning fall 2018. The NSF fellowship will cover five years with full financial support towards her doctorate. At UWM Rachel plans to continue her research with plant ecology in relation to climate change.
Rachel came to Appalachian State University in the Fall 2013 semester. She took a year off after her first year, and during that time, worked at a Christmas tree farm and as an arborist. As she reports, "The Christmas tree industry is worth $100 million dollars a year to North Carolina so it impacts individuals lives in our region. I saw a different kind of impact during that year. They were dealing with a drought and had a smaller than expected harvest. It was ruining everything." That was a pivotal experience for her and drove her research interest into the impact of climate change on plants, and in turn, people's lives.
For her Honors thesis Rachel worked with Dr. Howard S. Neufeld Professor in the Department of Biology studying the impact of climate change on Christmas trees at Grandfather Mountain, North Carolina. She defended her thesis entitled, Comparative Ecophysiology of Two High Elevation Conifers in the Southern Appalachian Mountains: The Importance of the Winter Season, on Friday, April 20. This research provided Rachel a foundation for better understanding the impact of climate change.
The photo below (submitted) features Rachel at her thesis field site at Grandfather Mountain, North Carolina.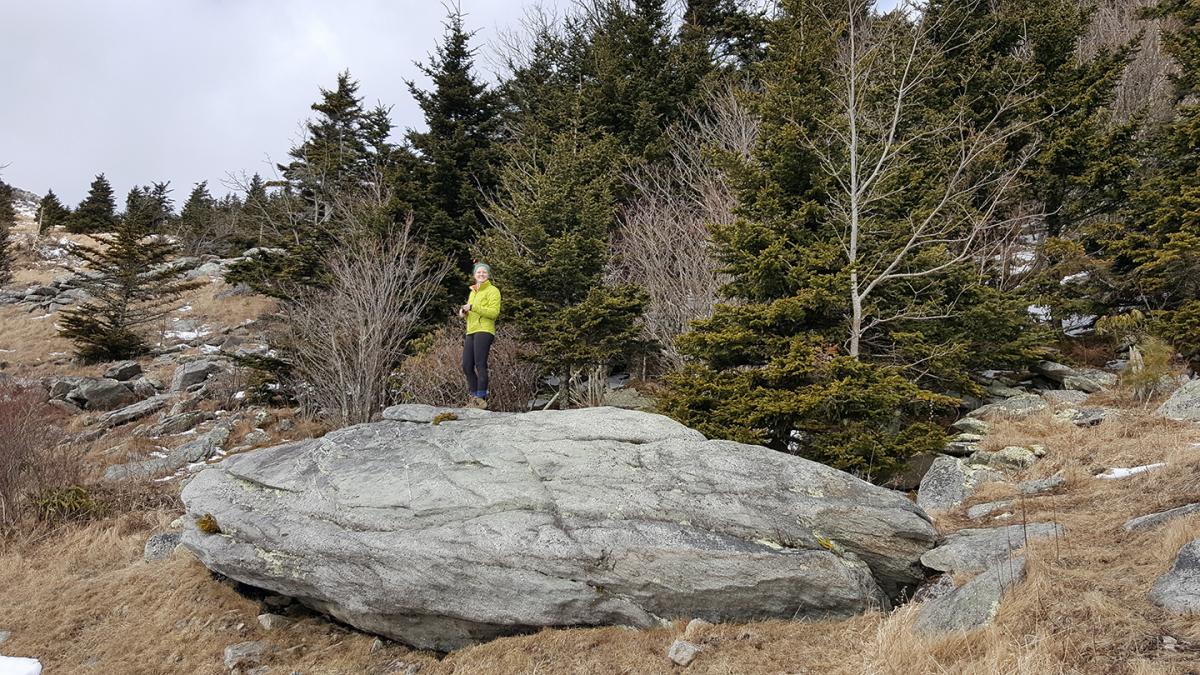 Climate change is impacting plants and also people's lives all over the world. Thanks to the support of the Honors College, Rachel spent the summer of 2017 climbing landslides in Peru's Manu National Park, one of the most biodiverse places on the planet, and almost entirely devoid of people. As Rachel explained, "We were looking at which plants moved into the 'new spaces' left by landslides as a way to understand migration capacity in the context of climate change. Climate change is triggering more frequent landslides in Peru, which are causing massive amounts of damage and death. But we were focused on how plant communities are changing in the cloud forest." In this fieldwork, Rachel served as a research assistant to Cassie Freund, a doctoral student and community ecologist with the Silman Lab at Wake Forest University. They studied the regeneration of plants on landslides occurring between 1964 and 2012. From June to August, they sampled a total of 22 landslides along an elevational gradient of 1800-3900 meters, and collected around 6 hundred plant samples. As Rachel explained, "this sometimes meant using ropes. I'm an arborist, so that's where my particular skill set came in handy!"
Congratulations, Rachel, on the NSF Graduate Research Fellowship and the successful defense of your Honors thesis. Please keep us posted as your research develops at UWM.
Story by: Garrett Alexandrea McDowell, Ph.D.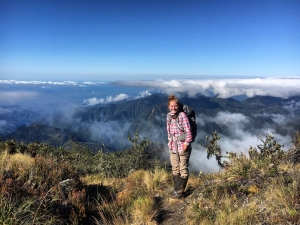 Tags: