Honors Alumna Olivia Paschall had a remarkable and noteworthy final month leading up to her December 2018 graduation. In Honors at Appalachian, Paschall was a geology major mentored by Dr. Sarah Carmichael, associate professor of geology, and Dr. Johnny Waters, emeritus professor of geology and Honors faculty. On December 1, 2018, Paschall was recognized as part of the Explorers Club/National Geographic expedition to Mongolia, which won the Expedition of the Year award from the Atlanta Chapter of the Explorers Club.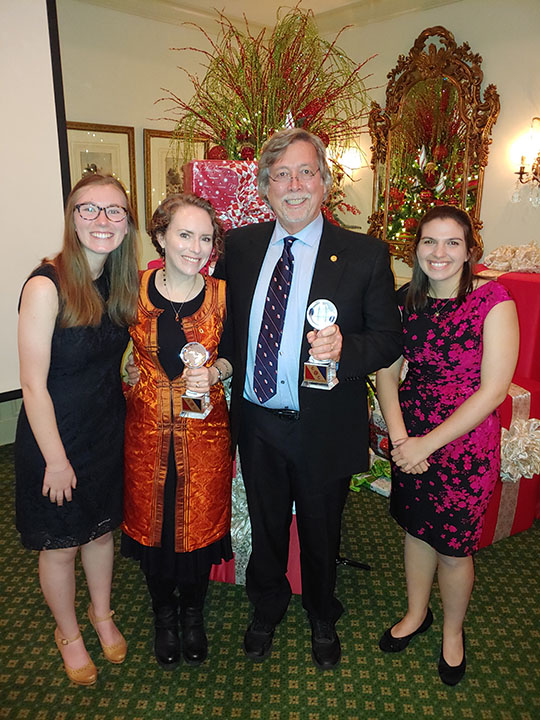 Photo above features the Appalachian team receiving the Expedition of the Year award in Atlanta on December 1, 2018. Featured (left to right): Honors Alumna Olivia Paschall, Dr. Sarah Carmichael, Dr. Johnny Waters, and Allison Dombrowski.
The following week, Paschall defended her Honors thesis, Exploring Late Devonian Mass Extinctions and Ocean Anoxia Events in Understudied Paleoenvironments of Asia, which she completed under the mentorship of Dr. Carmichael and second readership of Dr. Bob Swarthout, assistant professor of chemistry. The week after that, Paschall headed off to the American Geophysical Union annual meeting in Washington, D.C., where she presented the results of her research in Vietnam, one part of her thesis. She is the first author on a manuscript resulting from that research that has been accepted pending revision for publication in an international peer-reviewed scientific journal.
Dr. Waters shared,
"When published, the paper will be a landmark study in one of the most interesting times in the last 500,000,000 years of earth history. So, it's not a bad exit for an undergraduate—receiving recognition for your efforts in a scientific expedition, being first author on a major scientific paper […] and a trip to a very prestigious national conference with a high bar for abstract acceptance […]."
This would be Paschall's second publication from her undergraduate research and career. Her first paper co-authored with Dr. Waters has already been published in Geological Journal. These successes are the culmination of four years of dedicated mentorship and engagement with research in Honors at Appalachian.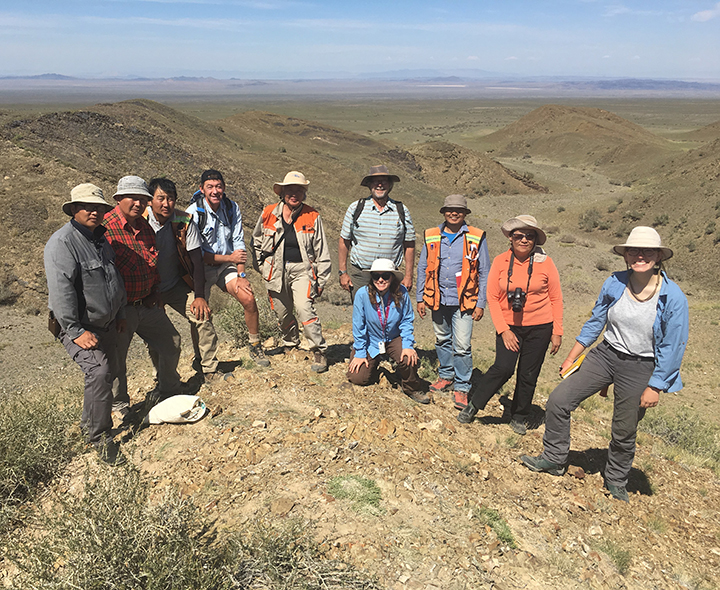 Photo above features Paschall (far right) with other team members in Mongolia including expedition leader Dr. Carmichael (front center) and co-leader Dr. Waters (back row center behind Dr. Carmichael).
In August 2018, Paschall joined her mentors Drs. Carmichael and Waters on the expedition doing geologic fieldwork studying mass extinctions to the western Khovd Province of Mongolia. This 22-person Devonian Anoxia Geochemistry Geochronology and Extinction Research (DAGGER) international team included American, German, and Mongolian scientists and two professional photographers. As an Explorers Club Flag Expedition, this project was externally funded by National Geographic and on December 1, 2018, it won the Expedition of the Year award noted above.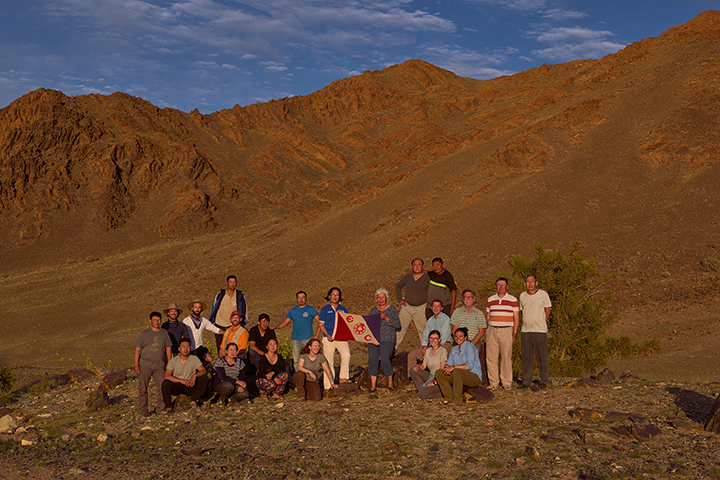 Photo above features the DAGGER team on their exhibition in Mongolia.
As an Honors senior, Paschall was one of two Appalachian geology students to join the expedition. Paschall and junior Allison Dombrowski both received full funding for the trip from the highly competitive Explorers Club Youth Activity Awards along with International Travel Grants from Appalachian's Office of Student Research. Dr. Waters first began working with Paschall in an Honors seminar, and it was then that she set her sights on research in Mongolia. Of that experience, Dr. Waters said,
"When Olivia was in my Honors Darwin class, I showed the class photos of our earlier trip to Mongolia with ASU student (and now alumna) Cameron Batchelor, who is completing a Ph.D. at the University of Wisconsin. I told the students that they could be in the same position or in a similar position with another faculty member. Olivia went to work for me soon after the class and I promised her that we would find a way to get her to Mongolia. Through the very hard work by Sarah Carmichael, we were able to make that promise come true. We recognized that Olivia was a very special student and will be delighted to watch her academic success in the future."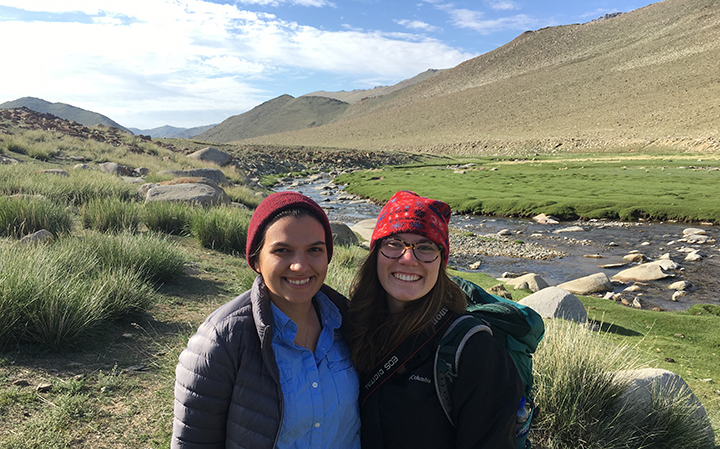 Photo above pictures Dombrowski (left) and Paschall (right) in Mongolia.
While at Appalachian, Pachall also won the 2016 NASA/NC Space Grant Scholarship. During the summer of 2016, she was an Incorporated Research Institutions for Seismology (IRIS) intern at Los Alamos National Laboratory. Summer 2017, she was an ExxonMobil geoscience intern. Paschall was also a member and served as president of Mountaineer Organization for Student Scientists (MOSS) club.
With such a strong foundation from Honors at Appalachian, Paschall's next steps will, no doubt, be tremendous. We will keep you posted!
Top photo shows Honors Alumna Olivia Paschall on the DAGGER exhibition in Mongolia.
Photos and story by: Garrett Alexandrea McDowell, Ph.D.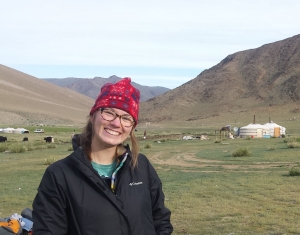 Tags: