With a research assistantship supported by the Department of Sociology and a College of Arts and Sciences SAFE grant, Honors senior Sope Kahn and their faculty co-authors published, "Navigating Campus Hookup Culture: LGBTQ Students and College Hookups" in Sociological Forum. Kahn's mentors, Drs. Ellen Lamont and Teresa Roach, assistant professor and lecturer, respectively, in Appalachian's Department of Sociology, co-authored the article. Kahn is a Wilson's Scholar double majoring in art education and gender, women's and sexuality studies.
Click here for the full story, Appalachian faculty and student research examines how LGBTQ students navigate the campus hookup culture, by Andrew Scott and Ellen Gwin Burnette in Appalachian Today.
For Honors students interested in collaborating with faculty on research, Kahn offers this advice,
"Don't be afraid to take an opportunity that is presented to you. I found my research assistantship on Instagram, emailed the professors, and set up an interview. I was only a sophomore when I began working with Drs. Lamont and Roach, and I did not know anything about the sociological research process. I wasn't even a sociology student. However, they were willing to teach me the tools I needed to help and engage in the research, and I learned so much about the process. Now, this experience has inspired me to pursue further research in the future, because I have a better understanding of the process. Over two years, I learned how to do interview outreach, interview coding, and develop and organize a published paper. I had no idea that would happen when I reached out for the position as a sophomore, and I am so glad I pursued that opportunity. Dr. Lamont has been a great mentor to me, and it was a great experience developing a working relationship with a professor. I would encourage you all to follow any opportunities that are presented to you. You never know where they will take you!"
Kahn credits their Honors experience at Appalachian for, "encouraging me to reach out and pursue academic agendas. The classes in Honors have taught me a lot about writing and thinking critically, and I applied these skills when working on this research."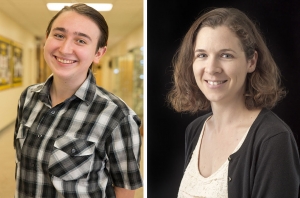 Tags: