After being accepted to five different law schools, Honors alumna Taylor Gibbs '20 has decided to attend Wake Forest University School of Law. Gibbs' acceptances included: Elon University School of Law, University of North Carolina School of Law, University of South Carolina School of Law, Wake Forest University School of Law, and Washington and Lee University School of Law. Gibbs shared,
"I ultimately have decided to go to Wake Forest, my dream school!"
Since graduating, Gibbs has been living in Charlotte, working as a post-closing administrative clerk for a real estate law firm, and applying to law schools. She additionally has earned a paralegal certificate from University of North Carolina Charlotte! She will begin at the Wake Forest School of Law in the Fall 2021 semester.
In the Honors College at Appalachian, Gibbs majored in political science with a minor in religious studies. She completed her Honors thesis Is the Protection of Minorities Worth the Suppression of Speech? The Effects of Political Correctness on American Universities and College Campuses with Dr. William Gummerson, associate professor in the Department of Leadership and Educational Studies, j as her thesis director. Dr. Andy Koch, professor in the Department of Government and Justice Studies, served as her second reader.
Describing her Honors experience, Gibbs shared,
"The Honors College most prepared me by giving me a sense of discipline that went beyond what any other non-Honors College class taught me. Completing the Honors thesis was a challenging four-year process, especially when I had to finish it during the initial COVID lockdown. However, as difficult as it was, it taught me valuable self-discipline as I had to balance my time daily. I never knew the importance of having discipline until I graduated from App and had to balance a full-time job with living life, going to school at UNCC, and working on getting into law school. I am extremely grateful to the Honors College for teaching me that skill."
Gibbs is one of many Honors alumni who head to postgraduate institutions with bright futures and strong foundations from Honors at Appalachian. We look forward to following Gibbs' successes at Wake Forrest and beyond. Congratulations!
Top photo of Taylor Gibbs in her cap and gown showcases her hard-earned and well-deserved Honors medallion in May 2020. Photo submitted.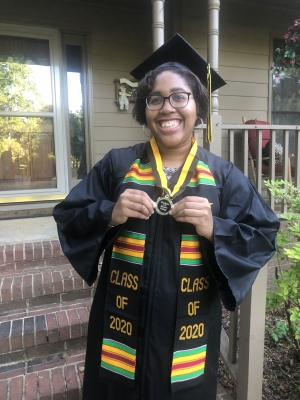 Tags: