Honors senior Tierney Daw has been awarded the 2018-19 George Williams Garrett Memorial Scholarship. Daw is a biology major and chemistry minor working in the lab of Dr. Mary Kinkel, assistant professor of biology. Dr. Kinkel uses zebrafish to study gut motility, the normal muscle movements involved in moving food through the digestive tract. Defects in gut motility result in poor digestion and thus also poor nutrient uptake from consumed food and can also result in constipation. In humans, Hirschsprung's disease is an example of defective gut motility.
This scholarship is to support Daw's research study of a gene called the motilin receptor. This gene is conserved in vertebrates, including humans, and thus it will provide insights into the possible medical implications of this gene. Daw's Honors thesis research involves inactivating this gene in zebrafish larvae and then studying the effect of this mutation on gut motility. Zebrafish is an excellent model to do this work because their larvae are largely transparent, thus allowing the observation of food passing through the digestive tract.
Mrs. Sheila Garrett established the George Williams Garrett Memorial Scholarship in 2017 in honor of her late husband George Williams Garrett. Mr. Garrett, an Air Force veteran who served in Vietnam, was a mathematician and systems analyst. Mrs. Garrett is a medical technologist whose career spanned 45 years. The Garrett family is devoted to scientific research, especially research focused on medical applications.
The George Williams Garrett Memorial Scholarship provides $1000 support to students in the Honors College at Appalachian pursuing careers in scientific research with preference given to students who are planning to work in medicine or medical research. Honors College students in good standing and performing research in fields related to the biomedical field are eligible to apply. This scholarship supports research and related travel expenses outside of coursework.
Daw presented her research at Appalachian research day and also at the Association of Southeastern Biologists Annual meeting in Memphis in April 2019. This summer she will begin in a NIH PostbaccalaureateIRTA program at the National Institutes for Health (NIH) in the Synaptic and Developmental Plasticity group, at the National Institute of Environmental Health Sciences (NIEHS) .
Congratulations, Tierney on this award! We in the Honors College look forward to following your future successes.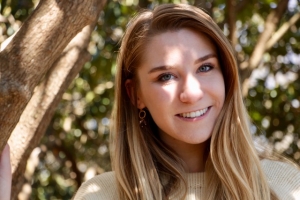 Tags: