By: Stacy Thornton
Honors College alumnus Travis Tabor is now a fifth year M.D./Ph.D. student at Washington University School of Medicine in St. Louis, Missouri. Tabor is currently working to obtain a doctorate in neuroscience in Dr. David Holtzman's Alzheimer's Disease research lab. Prior to the start of medical school, Tabor completed a two year post-baccalaureate fellowship at the National Institute on Child Health and Human Development (NICHD) with Dr. Dax Hoffman, where he studied the involvement of the potassium channel Kv4.2 in learning and memory processing. After his fellowship, Tabor then enrolled in the Medical Scientist Training Program (MTSP) at Washington University in St. Louis.
Tabor explains the goal of his current research in Dr. Holtzman's lab is to "understand how certain lipid metabolism genes regulate microglial functions in mouse and cell culture models relevant to neurodegeneration." This research has the potential to influence the trajectory of dementia therapy, which he describes as "both scientifically and personally fulfilling." Tabor initially became interested in the field of neuroscience when his father suffered from a memory disorder following a heart attack.
Tabor graduated from App State in 2016 with a Bachelor of Science in pre-professional chemistry with minors in biology, math, and music. He initially started out as a classical guitar performance major but quickly discovered his love for chemistry while taking organic chemistry with Dr. Cartaya-Marin, professor in the Department of Chemistry and Fermentation Sciences. Tabor's Honors College thesis titled, "Exploring Possible Roles of Organic Anion-Transporting Polypeptides In Invadopodia Function," was co-directed by Dr. Jennifer Cecile, associate professor and interim department chair in the Department of Chemistry and Fermentation Sciences, and Dr. Darren Seals, associate professor in the Department of Biology.
Tabor found that participating in the Honors College community was incredibly impactful. The advice of Dr. Leslie Sargent Jones, former director of the Honors program and professor in the department of biology, helped him become a more competitive medical school applicant. Tabor also said that attending Honors College events and living in Honors College housing allowed him to meet some of his best friends for life, including alumnus Dr. Corbin Ester, who is now a second year resident at Duke University Hospital. He said,
"Being surrounded by a group of particularly focused and hardworking students did push me to achieve more."
During his time at App State, Tabor served as service chair and president of the Health Professions Club and worked as a CNA at the Community Care Clinic. He urges all students, particularly those in the health sciences, to take full advantage of the advising and mentorship opportunities at Appalachian, stating,
"The Health Professions Advising (HPA) office led by Celeste Crowe was instrumental in my success. The HPA medical school committee process helped me prepare an effective medical school application and practice for interviews. In short, my message for pre-healthcare students is: 'listen to Celeste Crowe.'"
Tabor encourages all students to search for great mentors and get involved with research if at all possible. He said, "Doing research with Drs. Seals and Cecile was the most important choice I made. Their guidance and support was critical for me getting great internships and positioning myself to pursue research and medicine as a career." He also urges students to make the most of their summers off and gain as much hands-on experience as possible, as completing an internship with the NIH prior to graduation granted him the opportunity to secure a post-baccalaureate fellowship.
Photo above features Tabor (left), alumnus Corbin Ester, and alumna Simona Gizdarska, Dr. Ester's wife, hiking at Snake Mountain in 2016. Photo submitted.
Tabor ultimately chose Washington University School of Medicine due to its renowned research culture and immense intellectual resources. He said, "I chose WashU largely because it is considered to be among the best medical schools, neuroscience programs, and Alzheimer disease research centers in the world. The medical school alone is associated with 19 Nobel Prizes! I [also] enjoy living in St Louis. It fits my introverted personality by being an affordable, biggish city with plenty of things to do (hiking, concerts, good restaurants) while also not being overly-crowded."
Although Tabor loves life at Washington University, he still has fond memories of Boone stating, "St. Louis has really beautiful city parks and a handful of hiking opportunities nearby, [but] it really doesn't hold a candle to the natural beauty of the Blue Ridge Parkway."
After Tabor completes his M.D./Ph.D. in the spring of 2026, he aspires to run a research lab, while maintaining direct patient care interactions: "The goal is to use insights from the clinic to guide research questions that will be relevant to my patient population. One major benefit of the M.D./Ph.D. training path, however, is that I'll have many career options available. I can decide to work as a neurologist in the clinic, in academic research or industry, or some combination of these options. The M.D./Ph.D. path is a super long, but ultimately very flexible and rewarding path."
Top photo features Travis Tabor in the Holtzman Lab at Washington University School of Medicine in St. Louis, Missouri. Photo submitted.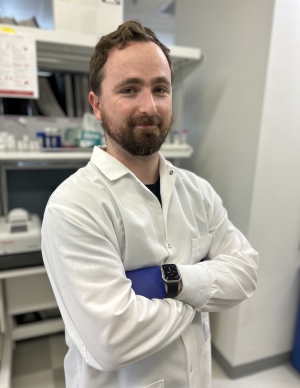 Tags: