Honors rising juniors and pre-med majors Makayla Wood and Hannah Davenport traveled to South Africa this summer for a clinical shadowing and emergency medicine program. This faculty-led study abroad program was designed and led specifically for Appalachian pre-med and pre-PA students by Dr. Chishimba Nathan Mowa professor of physiology and endocrinology in Appalachian's Department of Biology. Along with eight other Appalachian students, Wood and Davenport spent May 14-31 in Johannesburg, and June 1-8 in Cape Town, South Africa. During this time, they shadowed in seven different hospitals including: NetCare Union Hospital, NetCare Cilinton Hospital, NetCare Milpark Hospital, Baragwanath Hospital, Thelle Mogoerane Hospital, Groote Schuur Hospital, and Christiaan Barnard Memorial Hospital. They also spent two days learning at the EMS Training Center and from EMS professionals at the Rand Airport Helipad center. Over the course of the trip, they logged around 300 clinical shadowing hours in a variety of specialties (ear, nose and throat, orthopedic, gynecology, neurology, general surgery, and emergency medicine). This program is designed to provide students the opportunity to shadow, learn and gain experience in the medical field outside the United States.
In addition to the clinical shadowing, students visited various places to learn about South African cultural history. In Johannesburg this included: Soweto (the South African townships where the Nelson Mandela house is located), the Apartheid Museum, the Mall of Africa, and the Animal Creche where they saw lions, tigers, cheetahs, rhinos and giraffes. In Cape Town, they visited Table Mountain, a popular Waterfront market area, and toured the Groote Schuur Hospital where the first ever heart transplant took place.
Photo below features Wood playing with a baby cheetah at the Animal Creche in Johannesburg. Photo submitted.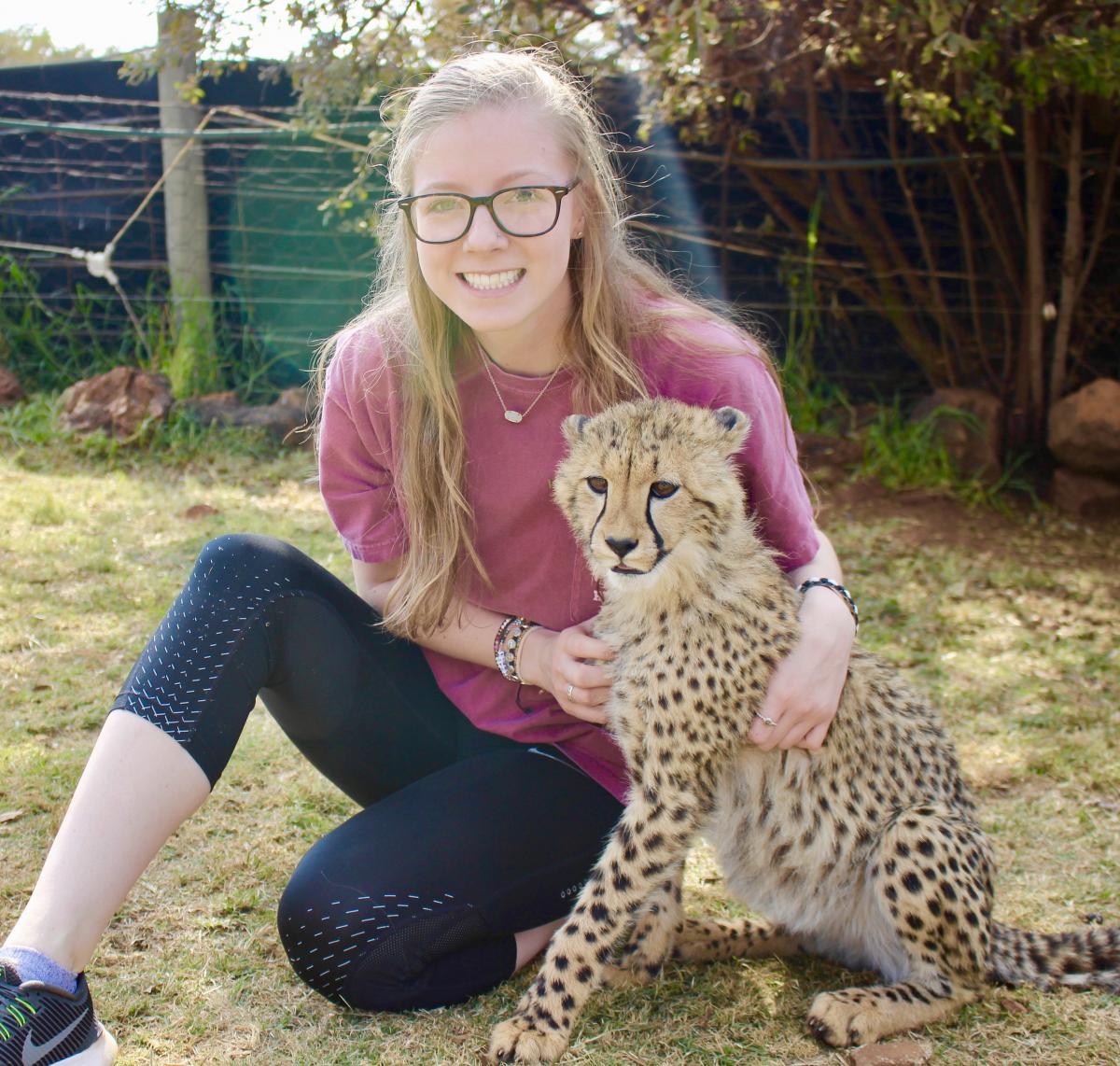 Photo below pictures Davenport at the top of table mountain in Cape Town. Photo submitted.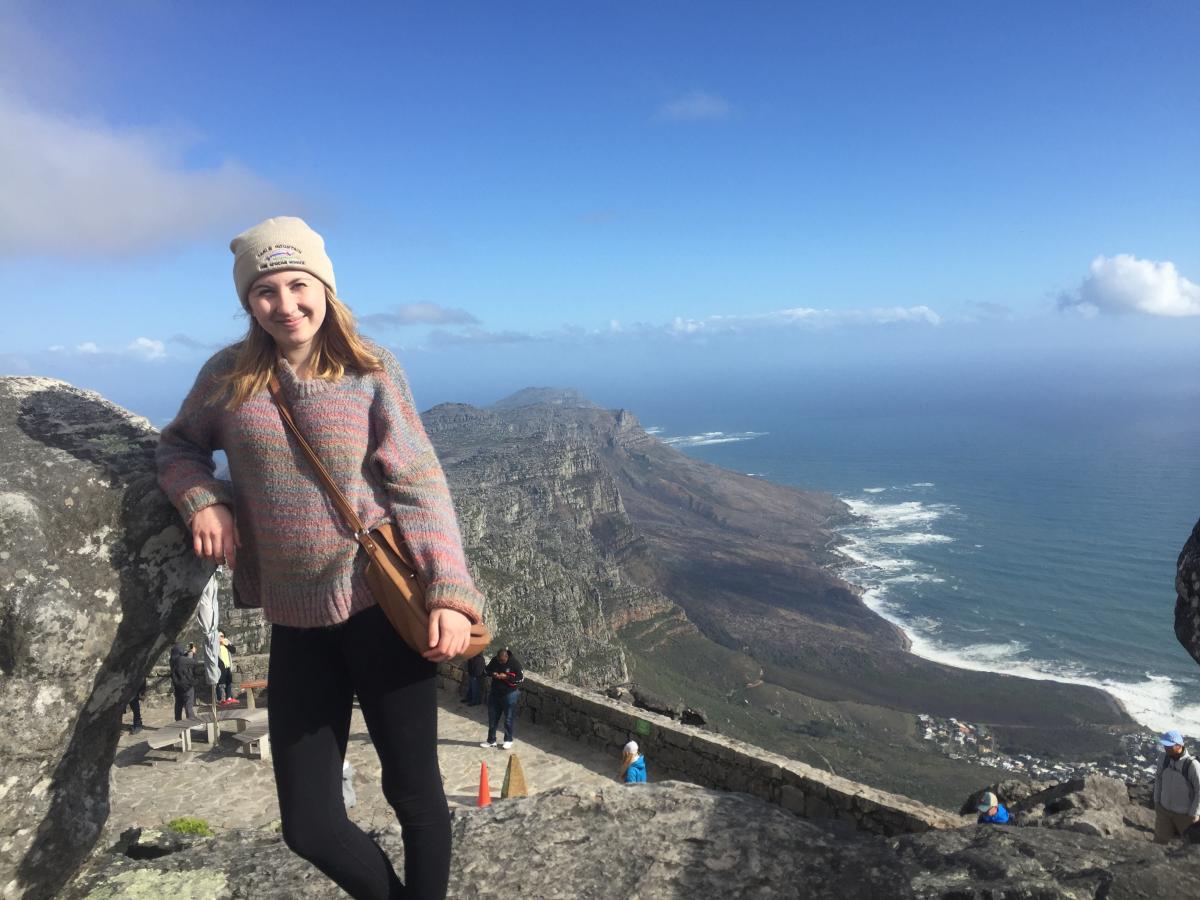 "It was one of the best months of my life! We spent our weekdays in the private and public hospitals watching open-heart surgeries and resuscitations and our weekends learning about the culture and beauty of Johannesburg and Cape Town. We saw so many cases and interacted with such intelligent physicians who worked so hard to teach us. I wouldn't have traded this time for anything and it helped affirm my passion for medicine, now I can't wait to be a doctor!" Davenport said.
Both Davenport and Wood left this experience even more driven to work in medicine, and with newly gained insight they will use in their future medical careers.
"What surprised me the most during the course of the trip was the difference in how the public vs. private hospitals functioned. Physicians working in public hospitals lacked proper resources to effectively care for patients. Physicians working in private hospitals were able to treat patients with a much higher standard of care. It was fascinating to view medical or trauma cases from different perspectives. There is not one right way to treat a patient; sometimes I learned it is best to not treat a patient at all. This really opened my mind and expanded the view I held for patient diagnosis and treatment. These experiences really put my emotional intelligence to the test," Wood said.
The Honors College provided funding to both Davenport and Wood in support of this life changing study abroad experience, and both expressed their gratitude.
Wood said, "South Africa will always hold a special place in my heart. I have experienced more growth and realization on this trip than a lifetime in the United States would have provided me."
Top photo shows the group of students including Davenport (far right) and Wood (far left) learning how to properly scrub in for surgery. Photo submitted.
Story by: Garrett Alexandrea McDowell, Ph.D.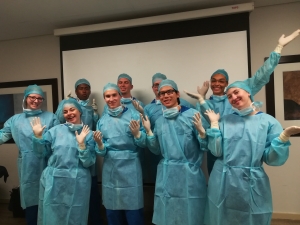 Tags: