Honors Wednesday Memo
Opportunities and Information for Honors Students
edited by Brad Rentz
Volume 1, Issue 15
January 24, 2018
Message from Dean Jeff Vahlbusch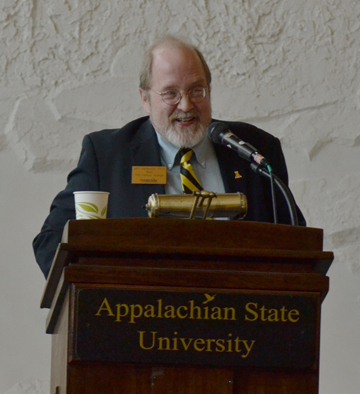 Let's brainstorm ways to build a vibrant Honors Community! Here are seven ideas to get us started:
1. Keep informed of Honors opportunities: Peruse the Honors Wednesday Memo, visit and "like" our Facebook Page, always open and read emails from me and other Honors College staff members.
2. Come hang out / study / nap / read a book, play a game / color in the Honors College Library on the top floor of Appalachian Hall.
3. Join the Appalachian Honors Association (AHA!). Go to meetings, and help shape that great organization to the benefit of all Honors students. First meeting is today! See information below.
4. Drop by or schedule a meeting just to chat: with me, with your Honors College mentor and advisor, with any member of the Honors College staff: the more we know, the more we can do for you!
5. Attend Honors Thesis defenses: at least two every semester until you graduate.
6. Give us ideas, tiny or huge, to make your Honors College experience better.
7. Make space in your schedule for Honors events and opportunities.
Invitation:
Please send me (vahlbuschjb@appstate.edu) more ways to build a vibrant Honors community: in Cone, in Summit, for Cone and Summit together, for Honors College students living off campus or in other residence halls, in Honors College courses, maybe with departmental Honors students campus-wide. We will feature your suggestions in a future Honors Wednesday Memo—and strive to act on them.
Upcoming Opportunities:
Dr. Vahlbusch will be delighted to assist with applications!
Live. Learn. Intern. In Washington D.C.
Apply to the 2018 LIVE. LEARN. INTERN. Programs and be a part of solving our nation's most pressing challenges. It is an important time to be in Washington, DC, now more than ever. It doesn't matter which side of the aisle you sit on, there are many challenges confronting our nation. This summer, you can work to address these issues in the city where front page news is made every day. The final deadline for applications is March 13th. Please visit: https://honors.appstate.edu/live-learn-intern-programs to learn more information and to apply today.
Interested in Research? Apply to the Trialect Amgen Scholars Program
Every year, the Amgen Scholars Program provides 240 selected undergraduate students with the opportunity to engage in a hands-on research experience at many of Europe, USA, and Asia's premier educational institutions. To learn more, please visit: https://honors.appstate.edu/trialect-amgen-scholars-program.
Study Abroad Applications Still Open!
It isn't too late to apply to study abroad. The Education Abroad Office is still accepting applications for faculty-led and partner programs. For more information and details on how to apply visit: https://honors.appstate.edu/study-abroad-applications
Study abroad in Ireland
On this two-week expenditure in Ireland students will study history and performance practices of traditional Irish music, in context of the rich cultural history of Ireland and live pub sessions. Students will study at the University College Cork and attend daily lectures and master classes. The trip lasts from May 15-29 and there are only 15 spots available. To learn more information and where to apply, please visit: https://honors.appstate.edu/study-abroad-ireland-traditional-irish-music.
Emerging Leaders program at Appalachian State
The Emerging Leaders Program is a ten-week experience designed for first and second-year students interested in personal growth and leadership development. The program introduces you to leadership through meaningful discussions, activities, adventures, and a retreat. The interest form will close January 30th. Please visit: https://honors.appstate.edu/emerging-leaders-participant-interest-spring-2018 to learn more.
Upcoming Events:
AHA! Upcoming Spring 2018 Events First Meeting is Today
Today (January 24th) at 5:15 in Appalachian Hall is our first executive and formal planning committee meeting. Open to all members of the Honors College! Wednesday, January 31st we are having a Comeback Shack Fundraiser. Come in any time between 11am and 10pm and say you are supporting Appalachian Honors Association and OASIS to participate! Please visit: https://honors.appstate.edu/aha-upcoming-spring-2018-events for a complete list of upcoming events.
Tunnel of Oppression
Tunnel of Oppression is a program designed to bring awareness to national and global social issues through skits and displays. Participants will enter the room on a guided tour that will lead them through a variety of acts and exhibits created by student organizations that shed light on topics such as women's issues, LGBT, racism, religion, environment, and mental health.
Please visit: https://honors.appstate.edu/tunnel-oppression-0 to learn more information.
Koru Mindfulness Class
Koru Mindfulness is a 4 week course where you will learn mindfulness and meditation skills. Through learning how to be more mindful, you may experience less stress, better sleep and less self-judgment. To learn more and to sign up for these classes, please visit: https://honors.appstate.edu/koru-mindfulness-class.
Spring Sustainability Film Series – An inconvenient truth
A decade after "An Inconvenient Truth" brought climate change into the heart of popular culture comes the riveting and rousing follow-up that shows just how close we are to a real energy revolution. This film shows on Tuesday, January 30 at 7pm in IG Greer. Please visit: https://honors.appstate.edu/spring-sustainability-film-series-inconvenient-sequel to learn more about this film.
Courageous Conversations
The Walker College of Business is hosting Courageous Conversations, a panel discussion developed by a student last year who was interested in learning about how to deal with discrimination, micro-aggressions, etc. in a professional manner the workplace. The panel will be held on Thursday, February 1 at 6pm in Peacock Hall Room 1010. Please visit: (insert link to HC website) to learn more information about this panel.
In the Honors Spotlight
Hailey Pister Arrives in Albania with the Peace Corps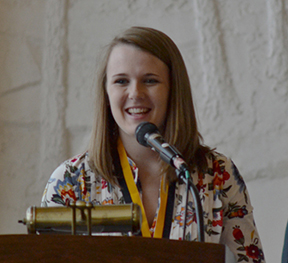 Hailey has joined the Peace Corps service as a Health Extension Volunteer in Albania. She departed on January 15 and has arrived safely. Hailey moved in with her host family this past Sunday, January 21st and is in the midst of learning shqip (Albanian). Stay tuned for her first on-the-ground report coming soon!
Please visit: https://honors.appstate.edu/news/hailey-pister-arrives-albania-peace-corps to learn more about her story and to follow her blog!
Hon 2515 Museums and Heritage Seminar Travels to D.C.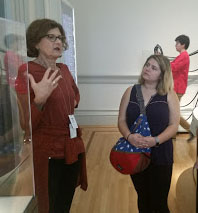 Ten students in the HON 2515 Museums and Heritage Studies seminar visited Washington, D.C., over fall break as part of their work for the course. Together the students visited the National Gallery of Art, the National Museum of African American History and Culture, the Renwick Gallery, the Holocaust Memorial Museum, and the Library of Congress. Students also toured museums and sites on their own, including the monuments of the National Mall, the Smithsonian American Art Museum, and the Museum of Natural History.
Please visit: https://honors.appstate.edu/news/museums-and-heritage-seminar-travels-dc to learn more about this experience. Click here for a video about the seminar trip to D.C. by Honors Sophomore and nutrition and foods major Amy Perkinson.
Don't forget to "like" us on Facebook at Appalachian Honors: https://www.facebook.com/Appalachian-Honors-482157301971520/.
Submissions to honors@appstate.edu should be received by 5:00 p.m. on Thursdays for the following week's issue.