Three faculty were recognized and presented 2016-17 Honors Faculty Awards at the University Honors Commencement Ceremony held on Friday, May 12, 2017.
Dee Parks, Ph.D. (Computer Science) received the Retiring Faculty Award in recognition of her distinguished service to Honors. Chris Waldon (Honors Alumnus '16, and Computer Science Graduate Student) presented this award.
Joseph Gonzalez, Ph.D. (Culture, Gender and Global Studies) received the Teacher of the Year Award presented by Maddison Staszkiewicz (Senior Honors Student).
Craig Caldwell, Ph.D. (History) received the Mentor of the Year Award presented by Sarah Patrick (Senior Honors student)
Photo (left to right): Chris Waldon, Dee Parks, Joseph Gonzalez, Maddison Staszkiewica, Craig Caldwell, and Sarah Patrick.
Congratulations to all three of these outstanding faculty and thank you for your service to Honors students!
Click here to see all Honors Faculty Award winners.
Story and photos by Garrett Alexandrea McDowell, Ph.D.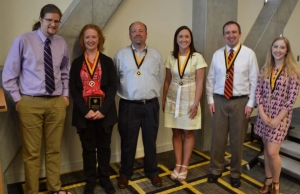 Tags: