This summer Honors senior and Chancellor's Scholar Elizabeth Williams joined the faculty-led study abroad program, History Landscape, and National Identity of Scotland. Williams is a studio art major and anthropology minor. Dr. Jason White, assistant professor in the Department of History, and Mr. Joshua White, assistant professor in the Department of Art, led twenty students including Williams on this study abroad program to Scotland from May 22 to June 11, 2019. The program description reads,
"The program's primary academic goal is to introduce students to a historical understanding of Scottish nationalism as well as documenting and reflecting upon this learning experience through the visual art of photography. Students will visit and experience a wide variety of historical sites and landscapes in order to gain a better appreciation for Scotland's diverse regional identities. Students will visit the historic capital city of Edinburgh where they will gain a sense of both the old (the castle and Holyrood Palace) and the new the Scottish Parliament which opened in 1999). From there we will travel to historic sites that are significant to Scottish national identity, such as Stirling Bridge (where William Wallace won a victory over the English in 1297), Urquhart Castle on Loch Ness (site of several Nessie sightings), and St. Andrew's (the site of the Royal and Ancient Golf Club). Along the way students will come to appreciate Scotland's unique historical situation as a nation without a full independent state that is bound in union with another nation with which it has a long, and frequently, antagonistic relationship (England). Students will then have the opportunity to contextualize Scotland's national situation within the broader scope of global nationalism." Williams further explains,
"Over the course of three weeks, we visited cities, castles, landmarks, battlefields, and ruins. In each place we visited, we learned about its significance in Scottish history, both through more formal instruction and our own firsthand experience of the place."
This study abroad trip was William's fourth international experience while in Honors at Appalachian. She first joined the group of first-year Chancellor's Scholars on a trip to Dublin over Fall Break 2015. She then took another faculty-led course, a six-semester hour interdisciplinary Honors seminar, Culture and the Arts in Vienna, over the summer of 2016. She also spent the full Spring 2017 semester studying abroad in Christchurch, New Zealand.
Williams further reflects on her experience in Scotland, and shares,
"Learning things about a place in a classroom is very different than learning about a place by going there. During our time in Scotland, we had experiences that would have been wholly different had we merely read or been told about them. For example, one night we got to attend a cèilidh, which is a traditional Scottish gathering where people play music and dance. It is similar to contra dancing here in Appalachia, but much more chaotic! We all had a really fun time, even though none of us knew what we were doing. It began at nine in the evening and lasted almost two hours, with all of us dancing almost nonstop. When it was over, none of us wanted to leave! It is these kinds of experiences that make study abroad trips so different from learning in a classroom, and so worthwhile, in my opinion. It was one of my favorite parts of the trip!"
Top photo features Williams at Cramond Beach near Edinburgh, Scotland on May 25th, 2019. Photo submitted.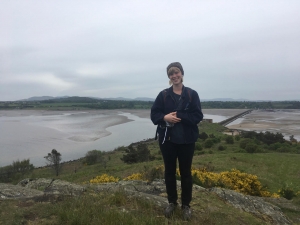 Tags: