By: Stacy Thornton
Honors College junior and Chancellor's Scholar Matthew Mair has been selected to participate in the Resilience and Adaptation to Coastal Change Across Communities (C2C) REU program located at the Coastal Studies Institute from May 31 to August 4, 2023. Funded by the National Science Foundation (NSF), the C2C program is a joint partnership between East Carolina University (ECU), Clemson University, and the University of Puerto Rico - Arecibo. Mair is double majoring in economics and political science, with future plans to obtain a Ph.D. in environmental economics.
REUs, or Research Experience for Undergraduates programs, allow students to participate in research projects at host institutions. At C2C, Mair will be engaging in research with Dr. Gregory Howard, associate professor in the Department of Economics at ECU, and Dr. Ariane Peralta, associate professor in the Department of Biology at ECU. Mair describes his summer project as "[modeling] the relationships between policy, farmer behavior and nutrient processes in a predicted future with greater saltwater intrusion." Mair has a particular interest in sea level rise (as it pertains to climate change) and completed an internship at the North Carolina Institute of Climate Studies in the summer of 2022.
Mair initially became interested in REUs after he learned about the opportunities from James Auwn, another Honors College junior and Chancellor's Scholar. He says, "James encouraged me to look into the programs available and apply if I found one of interest. I went to the NSF website and looked for projects focused on environmental policy and economics. I applied to four REUs, but [C2C] was my top choice!" In order to apply for the program, Mair submitted several essays describing his research interest and relevant qualifications and provided several letters of recommendation. Mair hopes that the research he completes this summer will "lay the foundation" for his Honors thesis, which will focus on the economic impact of sea level rise in North Carolina.
In addition to his research interest on sea level rise, Mair serves as the treasurer of the Chancellor's Scholars Board, the vice president of the Politics Club, and an Honors College Vanguard Ambassador and Honors College Peer Mentor. Mair says that his experiences in the Honors College have been "truly transformative" in both the academic and social aspects of his life. He reflected,
"I have made so many incredible friends and professional connections. Many of my most memorable experiences have come from Honors College seminars or from participating in events for the Honors College. My time as an Honors Vanguard Ambassador has also allowed me to share my love for Honors at Appalachian with prospective students and their families! I would like to thank Dean Vahlbusch and the advisors and staff within the Honors College for their incredible support on my academic journey thus far!"
After attending graduate school, Mair hopes to become an economics professor at the university level. His advice to other students is to "look for opportunities that fit their interests and qualifications. If you know of someone who has applied for the same program in the past, ask them questions about what it was like and ask for their advice. Additionally, our Honors College advisors can be great resources for connecting students to wonderful opportunities." Mair is excited to see what the summer has in store!
Top photo features Honors student and Chancellor's Scholar, Matthew Mair. Photo submitted.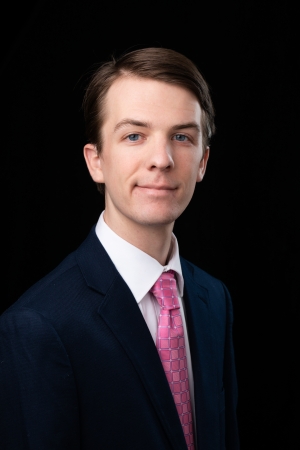 Tags: