Honors College alumna Emily Sharpe's Anyone Can Dance program will continue in Boone under the new directorship of Honors senior Katie Ballard. Ballard explained that for this upcoming year they have expanded the mission statement and goals of the program. In addition to teaching ballet and tap techniques, the program, as Ballard explained, "will also be working on instilling a sense of confidence and self-love in our students." Ballard detailed, "Dance has so much power, and we hope by incorporating these concepts, this power can be used to form positive body and mind connections for this young generation!"
In January of 2018, as a first-year student in Honors at Appalachian, Sharpe partnered with Northwestern Studios in Boone to create a pay-what-you-can dance program and made ballet and tap shoes available for students to borrow. Sharpe created the Anyone Can Dance program to share her love of dance with all children in the High Country regardless of household income. She shared,
"This program has meant so much to me as I have spent every weekend there throughout my years at App. I have been able to meet so many amazing kids and families and have gotten to work with so many wonderful App students as assistant and lead teachers, photographers/graphic designers, and volunteers at our recitals."
Ballard is a dance studies major with a minor in Somatic Sustainability, who has taught classes with the Anyone Can Dance Program for the past two years. She explained,
"I was introduced to the Anyone Can Dance program and to Emily by a former volunteer for the program. It was my first week in Boone and I was already missing my dance studio and the children I worked with back home. Dance has always been my passion but more specifically I love teaching and creating movement! When I was offered the opportunity to be an assistant teacher, I knew I had found my place in the community of Boone. I fell in love with the program's amazing students and its goals of inclusion. I believe dance is something anyone can do and more importantly I see it as something everyone should have the chance to pursue! As I continued to work with the program, I knew I wanted the opportunity to become more heavily involved. I spoke to Emily about my desire to help out more but never in a million years did I think I would receive the opportunity to become the program director! Now I am so honored to have the opportunity to follow in Emily's successful footsteps and continue to grow the program she built with so much compassion."
Above photo shows Katie Ballard the current director of the Anyone Can Dance program teaching preschool tap. Photo by Emily Sharpe.
Ballard plans to graduate a year early in May 2022, but will continue to serve as program director through the spring of 2023 season to help bridge the gap between leaders. Ballard and Sharpe will be working together with Northwestern Studios to ensure this program can continue even beyond 2023. Their hope is to find a way to bring in new directors, possibly as an internship. They welcome Honors College students to get involved and stated,
"This program is a pay what you can program. That means that we rely largely on donations and fundraisers. Without these, the program struggles to stay viable. Donations can come in many forms. We currently are in need of the donation of time and we would love more Honors College student involvement! We are still looking for dance class assistants. These assistants would be needed on Fridays or Sundays from 4-6:30. We are also planning several fundraisers and field trips for our students this year which will require volunteers. If you need volunteer hours please reach out to us, regardless of your past experience with dance, I promise there is a place for you in this program! We are also always looking for donations in the form of dancewear and dance shoes. Thrifters interested in working with us should reach out as well, as a large portion of our dancewear, both costumes and class attire, come from second hand stores. If you would have an interest in helping out at any future events or volunteering for any of our classes or performances contact us at acdteachers@gmail.com."
Photo above shows Anyone Can Dance students posing with their year-end awards at their Spring Recital 2021. Photo by Rachael Kelley.
Registration is currently open for returning and new students. Ballard explained,
"This year we have the pleasure of offering classes to a wider range of ages, as now we have classes for ages two through twelve on Friday and Sunday at Northwestern Studios off of Highway 105. We currently have approximately thirty-five students enrolled, but are keeping registration open to expand this opportunity to anyone who may stumble across our program later in the year! These are students who are from many different parts of the community and who have grown up with many different economic backgrounds."
There are two additional teachers working with Anyone Can Dance this year. Giovana Perazolo, is a junior majoring in dance studies with a minor in child development. Sophie Reynolds is an Honors College senior with a double major in dance studies and psychology.
Of her experience working with the program, Ballard shared,
"Anyone Can Dance has brought so much goodness and joy to my life. Teaching classes at this program is without fail one of my favorite moments in any week. I am so grateful for the opportunity to work in the field I love, teaching such amazing and kind students! I have been dancing for almost eighteen years now, but it was not until this program that I learned how much dance has impacted my life. I work with this program to bring that same opportunity to my students so that their lives too can be impacted by the beautiful art form that is dance!"
Meanwhile Sharpe graduated this past May 2021 and is now in Charlotte teaching dance at the studio where she learned. About the impact of her experience with the Anyone Can Dance program on her future path, Sharpe reflected,
"My time with Anyone Can Dance has definitely made me want to keep teaching dance and has also increased my curiosity in how dance helps children grow and learn. The program was the main reason why I chose to write my Honors thesis on the impact of dance classes on low-income students and is also why I plan to incorporate dance into my classroom. Additionally, it has given me a lot of experience with planning productions and managing finances, which I hope will help me in my personal life, but also in my classroom with the studio where I am teaching."
In photo above, dancers practice grand jetés in class. Photo by Emily Sharpe.
In Honors at Appalachian, Sharpe merged her major in elementary education with her passion for dance in completing her Honors thesis, The Impact Of Dance On Low-Income Students. For this project, she worked with Dr. Lindsay Masland, associate professor in the Department of Psychology as her faculty director, and Ms. Holly Rivers, the studio owner and head instructor at Northwestern Studios in Boone, as her second reader.
"I am passionate about this because dance has been such an integral part of my life, but formal classes are so inaccessible because of the costs. I am also passionate about working with low-income students because they are the ones that often get less funding and less outside support for their education; as I discovered in my research, education for low-income students has long been designed to keep them in their place. "
For more news on the Anyone Can Dance program, click here to read about the origins of the program, click here to learn about Honors student Rachael Kelley's promotional video about the program, or click here for a April 29, 2021 story from the Watauga Democrat.
Top photo features the Spring Recital 2021 Level Two Class from left to right, Mae Ellington, Katie Ballard, and Viola Benson. Photo by Rachael Kelley.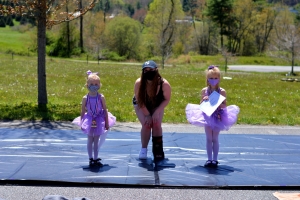 Tags: