Honors Wednesday Memo
Opportunities and Information for Honors Students
edited by Brad Rentz
Volume 1, Issue 24
April 4, 2018
Message from Dean Jeff Vahlbusch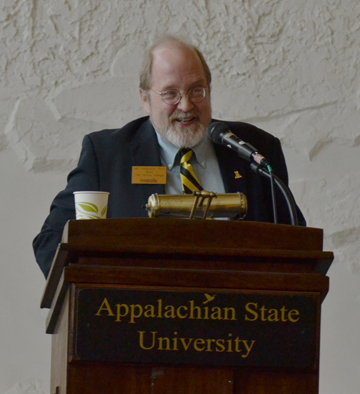 Fall in love again with the Honors thesis! Last week I wrote: "Support your fellow Honors College students and faculty by attending Honors thesis defenses! You'll marvel, learn, and grow. And each defense you attend will make your own easier."
Truly the best part of my wonderful job is the privilege and pleasure of attending such defenses, which are really celebrations. Honors College students present their research, scholarly, and / or creative work for 15 to 20 minutes; audience members ask questions; good discussion follows; committee members deliberate and decide; everybody gains.
This is undergraduate education raised to the highest power.
Between now and semester's end we have many Honors student-colleagues scheduled to defend their Honors theses, in dozens of disciplines. Dates/times/titles/presenter-names are always available on the Honors College calendar (https://honors.appstate.edu), and in the Honors Wednesday Memo.
No need to RSVP; just show up!
Yours,

Jeff
Upcoming Opportunities:
Dr. Vahlbusch will be delighted to assist with applications!
Wake Forest School of Medicine Internship
This internship opportunity offers hands-on research with ongoing projects and will work in the laboratories of Center investigators. There is a $5,000 stipend for full-time participation! The deadline to apply is April 30! To learn more about this opportunity please visit:https://honors.appstate.edu/summer-research-internship-center-precision-medicine-wake-forest-school-medicine.
Mint Museum Job Opportunity
This temporary, contract position will provide critical assistance to the Learning & Engagement department in maintaining summer camp programming. Hourly pay is $10 and you can work up to 40 hours a week! Please visit this link https://honors.appstate.edu/summer-job-opportunity-mint-museum to find out more and where to apply.
Childhood Poverty in America
The Hunger and Homelessness Awareness (HHA) Committee is hosting a discussion panel following a documentary on American children in poverty on Wednesday, April 11 from 6-8 pm in the Three Top Mountain Room of the Student Union. To learn more, please visit:https://honors.appstate.edu/childhood-poverty-america
Global Engagement Fair
The Reich College of Education's (RCOE) International Global Engagement Committee is hosting an International Global Engagement Fair on Wednesday, April 11, 2018 from 10:00 am - 2:00 pm in the RCOE building's rotunda. The event is open to all who are interested in sharing their global and/or international work or those who would like to learn more about global opportunities at Appalachian State University. To learn more, please visit: https://honors.appstate.edu/rcoe-international-global-engagement-fair.
Global Opportunities Conference
The 10th annual Global Opportunities Conference will be held on Friday, April 13 beginning at 9:30 am. To learn more about the speakers and this opportunity, please visit: https://honors.appstate.edu/global-opportunities-conference.
Upcoming Thesis Defenses:
Jeff says: Support your fellow Honors College students and faculty by attending Honors thesis defenses! You'll marvel, learn, and grow. And each defense you attend, you'll make your own easier.
April 6 – Alice Albl, a Nutrition and Foods major with a dietetics concentration, will present A Review of Creatine and its Role in Muscle Strength and Balance at 12 pm in Appalachian Hall room 186.
April 11 – Jaelyn Felder, an Electronic media and Broadcast Communications major, will present The Exploration of the Black Woman's Truth: Linking Slavery, Stereotypes, and Media at 12 pm in Appalachian Hall room 163.
Stay in the Know…
AHA meets Today (4/4) in the Honors College Library at 5:15!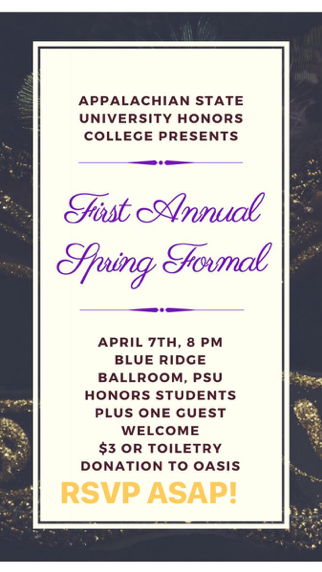 Climate Justice Month Series
Climate Stories Collaborative is kicking off Climate Justice Month Series with several events beginning on April 4 and continuing through April 25. Please visit: https://honors.appstate.edu/climate-justice-month-series for more information.
Slavery In the Appalachian Mountains Talk
The Honors College, Southern Studies Minor Program, and the Department of History are sponsoring a talk of Slavery in the Appalachian Mountains by Professor Emeritus Wilma Dunaway of Virginia Tech University. The lecture will take place on Wednesday, April 18, 6 pm in Appalachian Hall room 161. For more information, please visit: https://honors.appstate.edu/slavery-appalachian-mountains-talk-wilma-dunaway
Celebration of Student Research and Creative Endeavors
The 21st Annual Celebration of Student Research and Creative Endeavors will be held on Thursday, April 19th, 2018 on the 4th floor of the Plemmons Student Union. Stop by to see your fellow students' work! To learn more and to find a complete event schedule, please visit:https://osr.appstate.edu/present-publish/celebration-student-research-and-creative-endeavors
Counseling Center Resources for the Final Stretch of the Semester
Stress related to final exams, upcoming summer transitions, the prospects of returning to a not-so-good home life for the summer, and even good events (like graduation, study abroad) can combine with other personal struggles to make students feel overwhelmed near the end of the semester. This, in turn, can affect performance in classes, at work, or in relationships. The Counseling Center offers an array of services to help students! To learn about these services, please visit: https://honors.appstate.edu/counseling-center-resources-final-stretch-spring-semester
Semicolon Week
The purpose of Semicolon Week is very simple. Rather than standing idle and allowing the story to end with a period, we're here to work towards continuance with the stroke of a semicolon. Be it self-care or self-advocacy, Semicolon Week focuses on continuing stories and providing the resources that we can capitalize on to push forward. The premise is that this simple and commonly used symbol shows support and promotes awareness of mental health and suicide. Your story continues. Semicolon week begins on April 15 through April 21, to learn more, please visit:https://honors.appstate.edu/semicolon-week.
In the Honors Spotlight
Alyssa Phillips Accepted to Top-Ranked Doctoral Program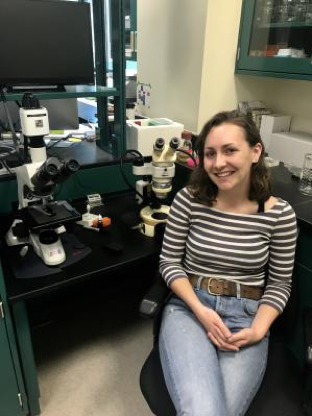 Honors senior biology major and chemistry minor Alyssa Phillips has accepted an offer to join the Plant Biology Graduate Group, a doctoral program at the University of California Davis (UC Davis). Alyssa says, "I am excited to be a part of such a strong plant sciences program. I aim to study domestication of crops with the goal of improving crop durability to biotic stresses." For her Honors thesis, Alyssa has developed a modified SteamDrop method to visualize chromosome in grasses commonly known as bluestem grasses, which are distributed globally in temperate and tropical grasslands. Her thesis title is, Cytogenetic tools to investigate the compilospecies.
For more on Alyssa and her prestigious accomplishment, please visit: https://honors.appstate.edu/news/alyssa-phillips-accepted-top-ranked-doctoral-program
Faculty Member of Distinction: Dr. Joseph Gonzalez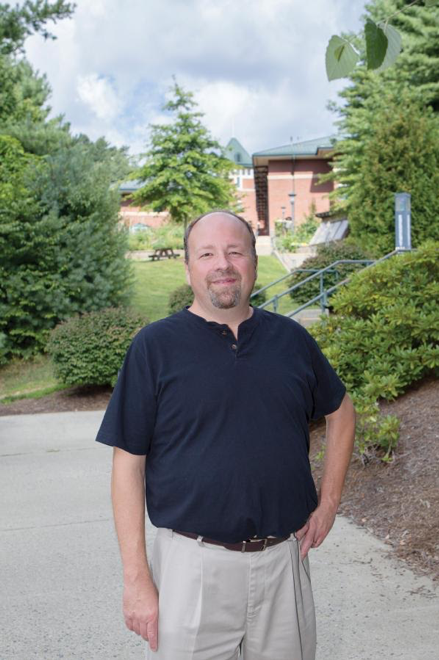 Did you know that Honors Faculty member, Dr. Joseph Gonzalez, Assistant Professor, Cultural, Gender, and Global Studies is an Appalachian State Faculty member of distinction? Check out the full story here http://appalachianmagazine.org/stories/id/559 from Appalachian Magazine
Dr. Gonzalez was also awarded the Honors College Teacher of the Year Award for 2016-17. This was one of our Honors Faculty Awards and was presented by Maddison Staszkiewicz (Senior Honors Student) at the Honors College Graduation Ceremony held on Friday, May 12, 2017.
Appalachian State Honors College on Social Media!

We're now on Snapchat!!! Add us with this Snapcode or by searching "apphonors."

Check us out on Instagram also! Find us by searching "Appalachian Honors College"

Don't forget to "like" us on Facebook at Appalachian Honors: https://www.facebook.com/Appalachian-Honors-482157301971520/.
Submissions to honors@appstate.edu should be received by 5:00 p.m. on Thursdays for the following week's issue.a