Honors Wednesday Memo
Opportunities and Information for Honors Students
edited by Brad Rentz
Volume 2, Issue 23
February 20, 2019
Message from Dean Jeff Vahlbusch
Dear Honors students, friends, faculty, staff,
Honors colleges and Honors programs that count are members of the National Collegiate Honors Council (NCHC), a now-international organization founded in 1966 and currently serving the cause of Honors education at nearly 900 colleges and universities across the USA and in several other countries: Mexico, China, the Netherlands, Russia.
A few weeks ago in this space, I wrote about our participation in NCHC's annual conference: over 2000 Honors students and professionals gathering to share ideas and to earn from each other. Today I call attention to a few of the outstanding benefits offered by the NCHC to Honors students of its member institutions (students, this means you!):
Partners in the Parks: a great outdoor experiential learning program for Honors students set in the national parks.
UReCA, the Honors Student Research Journal: where you can publish your research and creative projects.
And today especially, I highlight the Portz Interdisciplinary Fellowship Awards, which offers up to 18 months of financial support for student interdisciplinary research projects, individual or collaborative. Applications are due by March 15, 2019.
My colleagues and I in the Honors College will be delighted to help you apply.
Opportunities from NCHC are regularly posted in the HWM so stay tuned.
Sending thanks,
Jeff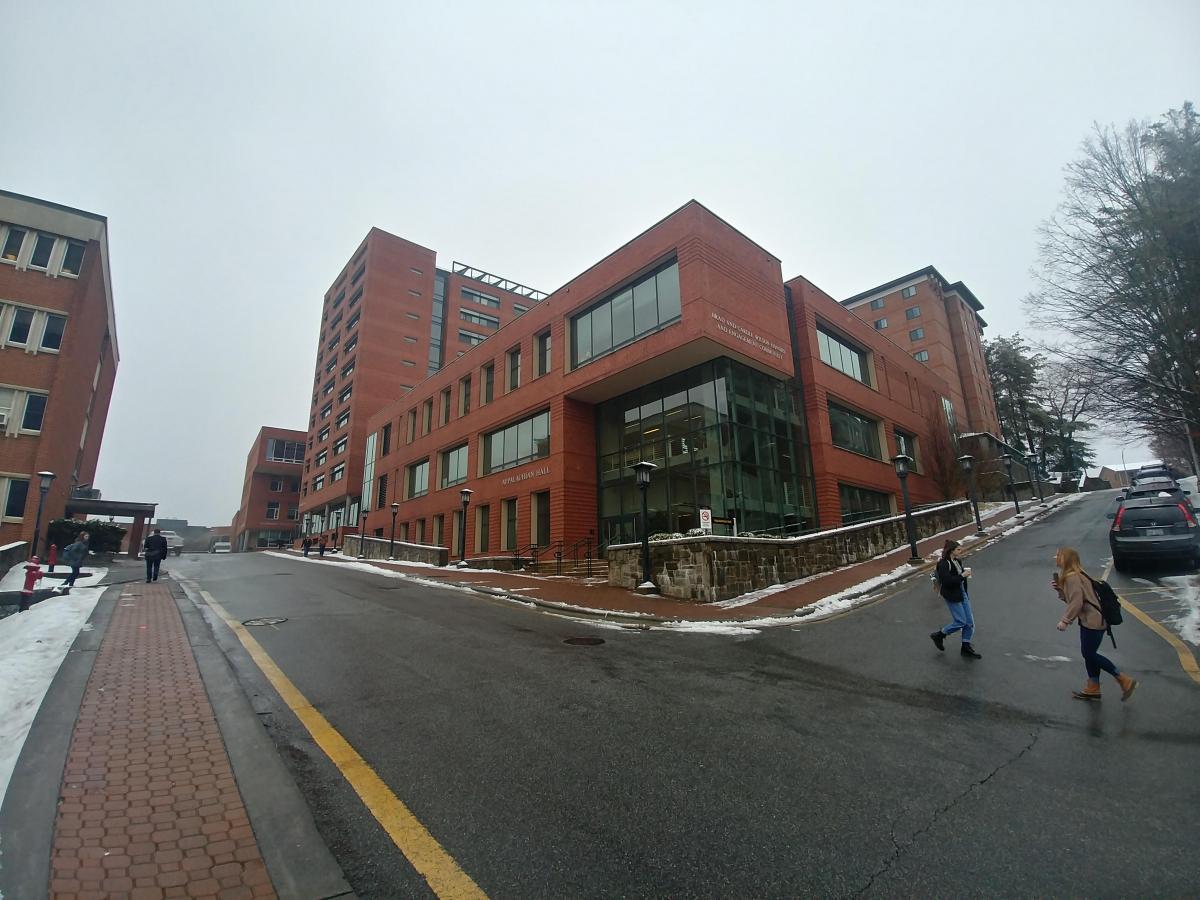 Pictured above is Appalachian Hall after last night's snowfall. Photo by Brad Rentz
Do you have a photo submission for the top of the Memo? Send it to Honors@appstate.edu!
Upcoming Opportunities:
Dr. Vahlbusch will be delighted to assist with applications!
National Collegiate Honors Council (NCHC) Call for Proposals
The portal for proposal submissions to the NCHC 2019 Conference will remain open until February 28. This year's conference will be held in New Orleans, LA from November 6 through 10. To learn about proposal guidelines and how to submit your own work to the conference, click here.
Call for Student Art
The Counselling center invites students to submit their artwork for a rotating display in the Counseling Center. Possible themes could include growth, resilience, connection, challenge, and comfort. Submit your artwork by March 1! To learn more, visit our website.
Health Professions Boot Camp
Are you getting ready to apply to Medical, Dental, Pharmacy, PT, OT, PA schools (or the similar) this year? If yes, you should come to the Health Professions Advising Office's application bootcamp. The first session of the bootcamp will be held on February 26 in Rankin Science West 156 from 4 to 5 pm.
Student Research and Creative Endeavors Call for Abstracts
The Office of Student Research is now accepting abstracts/mini-exhibits for our 22nd Annual Celebration of Student Research and Creative Endeavors Meeting. The meeting will take place on Thursday, April 18, 2019, on the fourth floor of the Student Union from 9 am to noon and 1 to 4 pm. The deadline for abstract submission is Wednesday, March 13, 2019, at midnight. For more information, click here.
Portz Interdisciplinary Fellowship Awards
Each year, Portz Interdisciplinary Fellowships are awarded to honors students from NCHC member institutions, to support creative and innovative research endeavors that cross boundaries. Individual students who wish to undertake cross-disciplinary research, or a team of two students from different disciplines who propose a single collaborative project, could have their research funded for up to 18 months! Applications are due by March 15, 2019, visit our website for more information.
Upcoming Thesis Defense:
Jeff says: Support your fellow Honors College students and faculty by attending Honors thesis defenses! You'll marvel, learn, and grow. And each defense you attend, you'll make your own easier.
Austin Lubkemann: March 1, 2:30, LLHS room 432, an Exercise Science major, will present Validity of Withings Pulse Wave Velocity Scale Versus Gold Standard Applanation Tonometry and Body Composition Analysis in a Young Healthy Population.
Megan Campany: March 1, 3:30, LLHS room 432, an Exercise Science major and chemistry minor, will present An Investigation of Sex Differences Between Withings Body Cardio and SphygmoCor Application Technology.
AHA Upcoming:
Major Mixer: Our Major Mixer will be this Friday from Noon to 2 p.m. on the middle floor of Appalachian Hall. If you would like to participate, please email Jeff! (vahlbuschjb@appstate.edu)
Stay in the Know…
Being a Woman in STEM & How not to do Sustainable Development in Africa
Dr. Doll, a Harvard alumna and current professor at ASU, will share anecdotes from her decades of working in the sustainable development and clean energy field. This event is sponsored by the WATS club (Women of Appropriate Technology and Sustainability) on February 20th in Katherine Harper room 180 @ 6:30 p.m. Click here for more information.
Tin for $10
Bring $10 (cash preferred but cards accepted) to Wey Hall for your very own, one-of-a-kind tintype portrait photograph! Using the wet plate collodion process, your favorite silver nitrate photo crew will be slinging tintypes from 9 am- until… supplies last on Friday, February 22! For more information, please click here.
Global Film Series: Rab Ne Bana Di Jodi (A Couple Made by God)
A Bollywood movie reminiscent of Jerry Lewis' Nutty Professor, mild mannered Surinder Sahni (Shahrukh Khan) creates an alter-ego, the cool and hip "Raj," to win the heart of fun-loving Taani (Anushka Sharma). The film will be shown for free on February 26 at 6:30 in Greenbriar Theaterlocated in the Student Union. For the poster and more information, click here.
Mental Health Check-Up Day
Our bodies need regular check-ups to take care of our physical health. Why not give your mental health some love, too? Stop by to see a short film featuring college students' real stories about their mental health. Then take a brief, free, and anonymous assessment to learn more about your own. This is a great chance to meet the Counseling Center's friendly peer educators, the Mental Health Ambassadors. Drop by Calloway Peak (137A, Student Union) between 10 AM and 2 PM on Wednesday, February 27th, click here for more information.
Adolf Hitler and the United States
On Wednesday, February 27, all students are invited to a public lecture by Dr. Gerhard L. Weinberg Emeritus Professor of History at the University of North Carolina at Chapel Hill. His lecture is entitled "Adolf Hitler and the United States: Views, Plans, and Policies and the 'Jewish Question'" and will start at 7:00 pm in Belk Library and Information Commons, Room 114. The event is free of charge and no tickets are required. For more information, visit our website.
In the Honors Spotlight
Rose Rossell and Patrick Faught Present at the AGU Fall Meeting in Washington, D.C.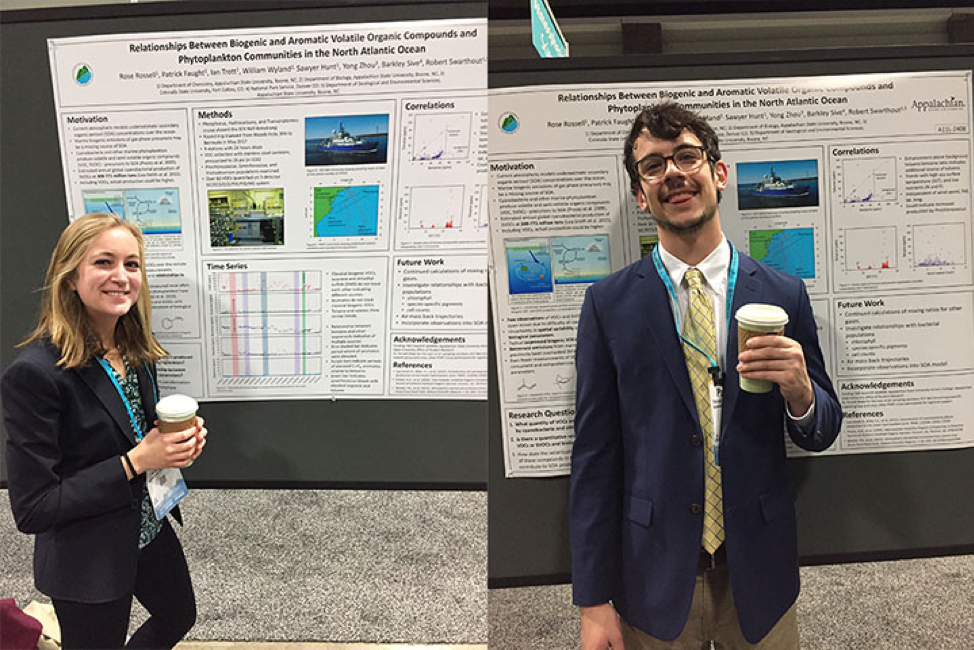 Above photos feature Rossell (left) and Faught (right) in front of their research poster at the AGU Fall Meeting in D.C. Photos submitted.
Honors seniors Patrick Fraught and Rose Rossell traveled to Washington, D.C. December 10-14, 2018 to present at the American Geophysical Union (AGU) Fall Meetings held at the Walter E. Washington Convention Center. The AGU conference is an international meeting of the physical sciences including chemistry, physics, geology and many more.
Rossell and Faught, both chemistry majors, together presented their research, Relationships Between Biogenic and Aromatic Volatile Organic Compounds and Phytoplankton Communities in the North Atlantic Ocean. That research is directly related to Rossell's Honors thesis.
For more information, click here for the full story by Brad Rentz and Garrett McDowell.
Aleasia Brown Travels to Costa Rica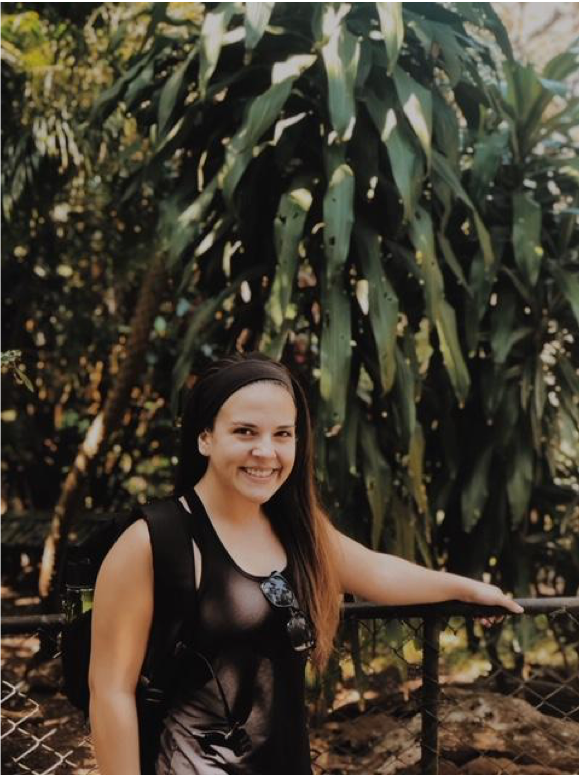 Honors senior Cell/Molecular Biology major Aleasia Brown traveled to Costa Rico over winter break with the Wildlife Conservation and Sustainability trip hosted by DANTA. Brown's experience in Costa Rica is an example of why going abroad is so important and intrinsic for students during this formative time of their lives.
For the full story by Brad Rentz, click here.
To Stay in the Know and to Learn About All Opportunities in Honors, please visit https://honors.appstate.edu/announcements
Appalachian State Honors College on Social Media!
Check us out on Instagram also! Find us by searching "Appalachian Honors College"

Don't forget to "like" us on Facebook at Appalachian Honors: https://www.facebook.com/Appalachian-Honors-482157301971520/
Have news to share? Submissions to the Honors Wednesday Memo can be made by emailing honors@appstate.edu. Any content received by 5:00 p.m. on Thursday will be considered for the following week's issue.