Thesis Mentorship
Senior Thesis/Project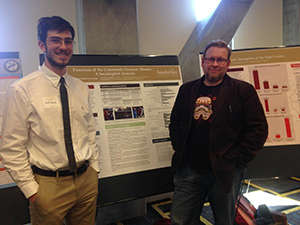 The Honors Thesis/Project is the capstone experience of The Honors College and generally represents a student's work over two or more disciplines. It is usually the most fulfilling aspect of the undergraduate curriculum for Honors students as they, with their director's guidance, get to determine their own course of study and original scholarship. The faculty member who is asked to mentor an Honors Thesis/Project knows they are getting one of ASU's best students who has chosen to collaborate with them on a shared area of intellectual interest. While this is similar to a Master's thesis in terms of time and effort invested, the opportunity to work with these gifted and highly motivated students has its own rewards beyond the possibility of a presentation-worthy result.
The Honors Thesis/Project takes whatever form best suits the subject. It can be a traditional research paper; it might resemble a scientific research article. A creative project, composition, work of art, recital, or dramatic production is also appropriate. The scope and length of the work will fall somewhere between a typical semester paper and a Master's thesis. The style is appropriate to the format and is agreed upon between the student and the faculty director. Whether the product is written or not, there must be a written componenet describing the project to accompany any non-written product (e.g., a performance DVD, or photos of art work, or a graphic design product).
The Honors Thesis/Project is usually three credit hours and may be in the student's major or minor, but this is not a requirement. The work should be interdisciplinary with at least two professors helping to mentor the work: a First Reader, or Director, and a Second Reader. The two professors usually are full-time ASU faculty (the Director must be, but the Second Reader may be from outside ASU), and they must come from different departments; this opportunity encourages inter-departmental collaboration and communication, which is part of the mission of The Honors College. The work must be presented at the end and "examined" in the form of a thesis defense with the committee. While it is recommended that the defense be public (announced appropriately and held in a place where others could attend), this is at the discretion of the committee.
If you are interested in directing a University Honors Thesis/Project but would like more information, please do not hesitate to contact the Honors Office (honors@appstate.edu) or contact the Honors Director (phone #2083).
All students wishing to graduate with Honors from The Honors College must complete a minimum three hour Honors Thesis or Project (larger thesis/projects requiring more hours are possible). These intense, individually designed and directed experiences demand a great deal of both student and mentor, but the rewards are just as great. As a smaller version of a Master's thesis, this experience should immerse the student in the field they are studying and provide them an immediate and intimate engagement with the material they are studying. In many cases, the work is an extension of the mentor's own scholarship and may lead to results that can be presented locally or nationally. This is the ideal case, but is not required.
Guidelines for Choosing a Thesis Committee for University Honors
Honors students choose their own thesis topic and committee (Director and Second Reader). Students pursuing University Honors may choose any topic in any major; only students pursuing departmental honors must do a thesis in their major with a Director from that department.
Guidelines for selecting a thesis Director for University Honors include
The thesis director must have recognized expertise in the area of the thesis topic
The thesis director must be a tenured/tenure-track faculty members at ASU; adjuncts, instructors and graduate teaching assistants are not eligible to direct a thesis
Guidelines for selecting a Second Reader for University Honors include
The Second Reader must be in a department different from that of the Director
They may be anyone the student and Director feel is appropriate to consult on the thesis, regardless of whether they are affiliated with ASU
Individual departments may have their own rules on the committee, and students pursuing both University and Departmental Honors will need to follow the requirements of both (this may mean having a three-person committee)
More information including forms, guidelines and more can be found at Steps for Completing the Honors College Thesis.