Honors Wednesday Memo
Opportunities and Information for Honors Students
edited by Brad Rentz
Volume 2, Issue 2
August 29, 2018
Message from Dean Jeff Vahlbusch
Dear Honors students,
What is Honors education? Any Honors professional, and any upper-level Honors College student or graduate, will be able to formulate good answers to this question. My own shorthand aspirational answer is this: Honors education is, or should be, intellectual, personal, professional development at the highest possible levels.
I note that this development—your development—must be collaborative: the happy result of you striving; you working together with your fellow Honors College students in classroom, residence hall, service project, student organization (AHA!), etc.; you seeking leadership roles in the Honors College and on campus; you seeking and nurturing relationships with Honors College and other faculty and staff members in many fields of inquiry.
Honors freshmores, remember! At our Honors Convocation, I gave you a task and a time limit: 8 weeks to help me and Honors College staff learn about you and jumpstart your process of getting to know us. On Thursday, April 30th, 2 of those 8 weeks will have disappeared J.
Time to start knocking. We look forward to our conversations.
Jeff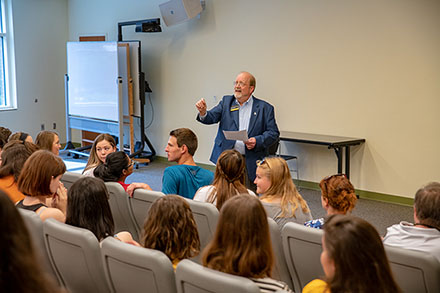 Jeff engages with Honors students including 122 new freshmores
at the Honors College Convocation held on August 17, 2018 in the Belk Library.
Photo by Garrett McDowell
Upcoming Opportunities:
Dr. Vahlbusch will be delighted to assist with applications!
Apply to join the Honors College Vanguard!
Are you in your second to seventh semester? If so, you are eligible to apply to join the Honors College Vanguard – a group of dedicated Honors College students who work as Honors ambassadors and as consultants to the Dean of the Honors College (me!). Interested? I'm extending the application deadline for this fall toSeptember 6th. Please write me with questions.
To find the application to become an Honors Vanguard, please visit https://honors.appstate.edu/community/vanguard
Education Abroad Applications Now Open
Study abroad for the spring semester is still open! You can also now apply for Summer 2019 study abroad trips both faculty-led and partner programs. Apply now! Space is limited for many faculty-led trips. Please visit https://honors.appstate.edu/education-abroad-applications to learn how to apply.
Graduate School at Appalachian
If you are interested in graduate school then please attend the First Friday: Graduate Student Campus Visitation events. The first event is next Friday (9/7). Please visithttps://honors.appstate.edu/interested-graduate-school-appalachian for a complete list of dates.
Internship and Job Fair
The Internship and Job Fair is Appalachian State University's largest and most comprehensive career event! It will be held on Wednesday, September 19 from Noon to 4 pm in the Convocation Center. Please visit https://honors.appstate.edu/internship-job-fair for more information about the Fair.
Resume Help
Beginning on Monday, Sept. 10 and continuing through Tuesday, Sept. 18 from 11 am to 1 pm at the contact tables in the Student Union there will be helpful Resume Clinics. These clinics are designed to help you prepare your resumes, practice interviewing skills, speak with employers, plan what financial requirements are needed post-graduation, manage an online presence, and learn about graduate school options. Please visit https://honors.appstate.edu/resume-clinics for more information.
Stay in the Know…
AHA! Will meet next Wednesday (9/1) at 5 pm in the Honors Library
Koru Mindfulness
Koru Mindfulness is a 4-week course where you will learn mindfulness and meditation skills. Through learning how to be more mindful, you may experience less stress, better sleep, and less self-judgment. Attendance at all four sessions is required. Registration is first-come, first-serve basis. Please visit https://honors.appstate.edu/koru-mindfulness-class-registration-1 for more formation and class dates.
Honors Alumnus Launches Graduate School Speaker Series
In I.G. Greer on September 26 from 5:30 – 6:30 pm the speaker series will highlight Appalachian State alumni who are leaders in our state and nation. The first speaker is Jonathan Kappler who serves as the executive director of the North Carolina Free Enterprise Foundation. For more on this speaker series, please visithttps://honors.appstate.edu/honors-alumnus-launch-graduate-school-speaker-series.
Anthropology Brown Bag Series
On the second and Fourth Wednesdays of each month in Belk Hall 342 at Noon, there will be a series discussing various topics in the field of Anthropology. OnSeptember 12, "Views from the Equator" will kick of the series. Be on the lookout for more updates in the Wednesday Memo about this series in the future! For more information on the brown bag series, please visit https://honors.appstate.edu/anthropology-brown-bag-series.
Conference on Autistic Self-Knowledge and Self-Advocacy
Author Catherine Faherty and artist/activist Jade McWilliams will present The Transformative Power of Autistic Self-Knowledge and Self-Advocacy on September 21 from 9 am – 4 pm at Alliance Bible Fellowship. Attendance fee is $10 for students. Please visit https://honors.appstate.edu/conference-autistic-self-knowledge-and-self-advocacy for more Information.
Humanities Symposium
The Symposium featuring stories of Caring, Health, and community will take place on October 23 from 9 am – 5 pm in the Parkway Ballroom of the Student union. The day is packed with speakers, events, and even refreshments! Please visit https://honors.appstate.edu/humanities-symposium-2018-stories-caring-health-and-community for a complete list of activities.
In the Honors Spotlight
Honors Dr. Brandy Bryson Directs Inclusive Excellence Team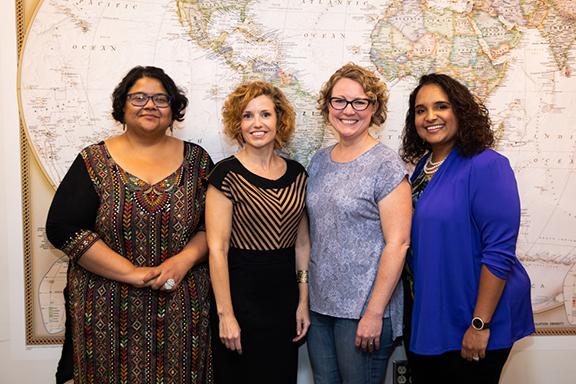 Honors Faculty member Dr. Brandy Bryson, associate professor in the Reich College of Education's Department of Leadership and Educational Studies, is serving as director of Appalachian State University's Inclusive Excellence Team. This is a new professional development initiative for faculty intended to make classrooms more welcoming and strengthen the culture of diversity and inclusion across campus.
For more on Dr. Bryson's story, please visit: https://honors.appstate.edu/news/honors-dr-brandy-bryson-directs-inclusive-excellence-team
Two Honors Students Join Faculty-led Study Abroad to Poland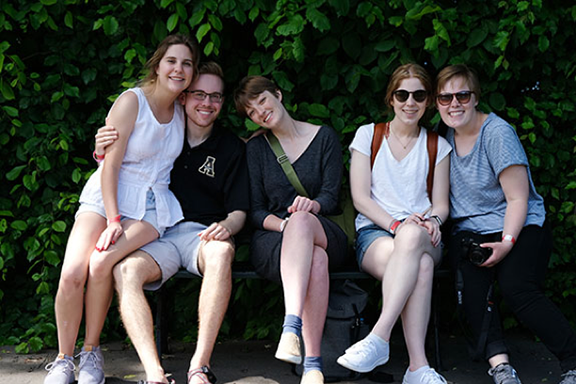 Embarking a week after the end of Spring 2018 semester, Honors Tyler Hotz and Nora Smith, both rising juniors and communication majors, traveled to Poland for a month-long faculty-led study abroad. Dr. Nina-Jo Moore, Professor in the Department of Communication, led a total of 15 Appalachian students on this journey, beginning in Prague before traveling in Poland for the month-long trip. The group visited Warsaw, Krakow, Gdańsk, Olstyn, Kolobrzeg, Malbork, Torun, and Zakopane. While in Gdańsk, they attended classes for a week at the University of Gdańsk.
For more on Tyler and Nora's exciting story, please visit https://honors.appstate.edu/news/two-honors-students-join-faculty-led-study-abroad-poland
Appalachian State Honors College on Social Media!

We're now on Snapchat!!! Add us with this Snapcode or by searching "apphonors."

Check us out on Instagram also! Find us by searching "Appalachian Honors College"

Don't forget to "like" us on Facebook at Appalachian Honors: https://www.facebook.com/Appalachian-Honors-482157301971520/
Submissions to honors@appstate.edu should be received by 5:00 p.m. on Thursdays for the following week's issue.