Honors Wednesday Memo
Opportunities and Information for Honors Students
edited by Brad Rentz
Volume 2, Issue 31
April 24, 2019
Message from Dean Jeff Vahlbusch
Dear Honors College and Departmental/WCOB Honors students!
Between this Wednesday (4/25) and next (5/1), at least twenty-four additional Honors students will defend their Honors theses. The schedule is below!
Please attend one, two, three of these defenses. You'll show support to your fellow Honors students and faculty, see how affirming Honors thesis defenses really are, and start to grasp why Honors theses aretransformative for all who complete them.
Yes: you gain deep expertise in your topic, master a body of knowledge, get comfy with working with faculty as colleagues, do graduate-level work as an undergrad, produce something of lasting public value.
But: more importantly, you learn who you are; learn to cope with your strengths and weaknesses; learn to manage big, complex projects with many stakeholders; learn how knowledge is produced and how to communicate it to experts and to others.
Please read Emily Cluen's look-back at her 2018 Honors thesis at the end of this Memo.
In support always,
Jeff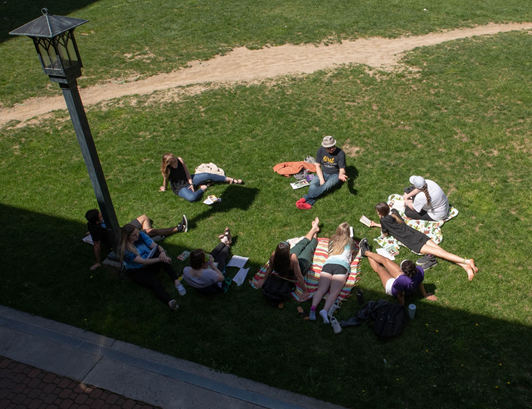 Honors Dr. Chris Osmond Honors faculty and associate professor in the
Department: Department of Leadership and Educational Studies
teaching HON 2515: Narratives and the Caring Professions.
Do you have a photo submission for the top of the Memo? Send it to Honors@appstate.edu!
Upcoming Opportunities:
Dr. Vahlbusch will be delighted to assist with applications!
Save the Date and Time: AHA! Cookout on Reading Day
When: Thursday, May 2nd, from 11:30 a.m. to 1:30 p.m.
Where: The Honors College Bailey (a.k.a. Courtyard)
What: Veggie burgers, burgers, hot dogs, chips, possibly brownies
Why: Nourish our Honors community, build strength for finals
Who: You + Honors friends, faculty, and staff
Opportunities with the Mint Museum
There are several opportunities for students to work with the Mint Museum in Charlotte this summer and fall. There is a paid option for Summer Art Camp assistant as well as fall internships. The deadline for fall internship applications is July 8. For more information, click here.
Fulbright Student Writing Workshops
Attend the next two information sessions for Fulbright Scholarships on April 25 at 3 pm in the 415 Rough Ridge Room of the Student Union and on April 26, at 12 noon in 417 Beacon Heights room of the Student Union. Fulbright scholarships are fully funded programs to teach, study, research or pursue creative endeavors in over 140 countries. For more information, visit our website
Spring 2020 Study Abroad Applications
Applications to go abroad in Spring 2020 are now open! The Office of International Education and Development invites you to attend study abroad info sessions that can help you better understand the process of going abroad! For more information, click here.
Appalachian Energy Summit Student Poster Competition Call for Submissions
College and University students are invited to submit an abstract for their energy-related research or project and be a part of the 8th annual Appalachian Energy Summit. This is an excellent opportunity for students to showcase their work, develop business skills, and network with students and professionals. $1,700 in cash prizes will be awarded. Submissions are due by May 15. For more information, visit our website.


Upcoming Thesis Defenses:
Jeff says, "Support your fellow Honors College students and faculty by attending Honors thesis defenses! You'll marvel, learn, and grow. And each defense you attend, you'll make your own easier"
Anna Twigg: April 25, 11:30 am, Belk Library Room 232, a political science major, will present Understanding the origins and impacts of US foreign policy on family planning and reproductive health.
Paige Anderholm: April 25, 12pm, Appalachian Hall Room 163, a political science major, will present Monopolies on Fanaticism: Constructions of Terrorism in History and Analysis of Post-9/11 Counterterrorism Strategy.
Alex Luke: April 25, 1:30 pm, Appalachian Hall Room 163, a biology major, will present Identification and Design of Sustainability Improvements to Poultry Production.
Savanna Tanner: April 25, 3:15 pm, Beasley Media Complex Conference Room 225, a marketing major, will present A Series on Community Newspapers.
Anna Ruth Carmichael: April 26, 10 am, LLHS Room 228, an exercise science major, will present Estrogen Effects on Cardiovascular Function.
Alena Norton: April 26, 11 am, Appalachian Hall 163, a biology major, will present Zebrafish Larval Growth and Nutrition.
Sam Reis: April 26, 11 am, Smith Wright Room 204, a psychology major human services concentration, will present Perceptions of Juvenile Offenders Who Were Maltreated as Children.
Andi Olivet: April 26, 2 pm, Walker Hall 314, an actuarial science major, will present Data Analysis of New Implementations to University Tutorial Services.
Nathan Sales: April 29, 8:30 am, Appalachian Hall 163, a commercial photography major, will present Yonder Expectations.
Wade Bestler: April 29, 11 am, Appalachian Hall 163, a finance and banking major, will present A Sociological Analysis of Chronic Poverty within the Appalachian Region.
Amanda Pinto: April 29, 12 pm, I. G. Greer 118, a philosophy and psychology major, will present The Fuzziness of Whiteness: An Exploration of Latinx Discrimination Through the Use Dehumanization.
Kierdre McFadden: April 29, 1 pm, Rankin Science West Conference room 201B, a cellular and molecular biology major, will present The Regulation of para[bss1] by spen and brm and it's Role in Seizure Susceptibility and Nociception Sensitivity in Drosophila.
Jaime Cave: April 29, 2 pm, Belk Library 303, a psychology major, will present Is it the Medication or the Symptoms? Examining Perceptions of ADHD in College Students.
Caroline Piephoff: April 29, Garwood Hall 243, a physics major, will present Solar Concentration Strategies for Evacuated Tubes.
Caroline Guthrie: April 30, 9 am, Appalachian Hall 085, a biology major, will present Influence of Ankle Instability on Muscle and Bone Characteristics and Stretch-Shortening Cycle Capabilities.
Morgan Gaglianese-Woody: April 30, 10 am, Rankin Science Conference Room 201B, an EEE biology major, will present
The development of microsatellite markers for the culturally and economically significant plant, Allium tricoccum Ait.
Lydia Shoffner: April 30, 11 am, Communication Department Conference Room, an advertising and public relations major, will present Parasocial Relationship Influence on CoverGirl Buying Intentions: Trust and Loyalty from SMI and Celebrity Endorsements.
Amanda Bianco: April 30, 1:30 pm, Appalachian Hall 163, a psychology major, will present The Counseling on Access to Lethal Means (CALM) Gatekeeper Training Improves Confidence of Suicide Prevention Techniques Among a Sample of Academic Advisors.
Sarah Barnes: April 30, 2 pm, LLA Room 124, a sustainable development major, will present The Separation from Nature: Implications on Human Well-being and the Future of Our Planet.
Rose Rossel: April 30, 3:30 pm, Garwood Hall Room 418, a chemistry major environmental concentration, will present Cyanobacterial Emissions of Biogenic Volatile Organic Compounds: Impacts on the Remote Marine Atmosphere
Aleasia Brown: May 1, 9 am, Appalachian Hall 163, a cellular and molecular biology major, will present Analysis of Imp, a Rna-Binding Protein Involved in Regulating Thermal Nociception and Dendrite Morphology in Drosophila Melanogaster.
Hayley McCulloch: May 1, 10 am, Anne Belk Hall room 228, a secondary history education major, will present The Man on the Monument: Heritage and Hate in Lexington, North Carolina.
Maggie Steranko: May 1, 1 pm, LLHS 208, a psychology major, will present Auditory Verbal Therapy: A Systematic Review of its Use for Prelingually Deaf Children.
Lauren Burrows: May 1, 2 pm, LLA Room 205 (Great Hall), a sustainable development major, will present Loss & Continuity in Ancestral-Based Control over Land and Environment in Africa.
AHA Upcoming:
Honors Formal: Do you have pictures you wish to share with the Honors College or AHA? Send them to Honors@appstate.edu!
Reading Day Cookout: Do you want to help, or do you have suggestions? Join the AHA Executive Board in a planning meeting in the Honors Library Tuesdays at 9 am.
Stay in the Know…
Dr. Michael Fisch Comes to Appalachian
Today, April 24, at 6:15 pm in Belk Library 114, Dr. Fisch will present Mediating the Gap: An Anthropological Exploration of the Internet and Tokyo's Commuter Train Network. For an abstract of this lecture, and more information about Dr. Fisch, click here.
A Celebration of American/Irish Poets
On Thursday, April 25, from 5 to 6 pm in room 137C of the Student Union, Kathryn Kirkpatrick and Adrian Rice will host the celebration. For more information, visit our website.
The 7th Annual Appalachian Lecture in British History
On Thursday, April 25 at 7:15 pm in room 114 of Belk Library, Dr. Susan Dabney Pennybacker, Chalmers W. Poston Distinguished Professor of European History at UNC Chapel Hill will give a lecture on "Exile and refuge in postwar, late-empire London." For more information, click here.
Community Recovery Hike
Appalachian Collegiate Recovery Community presents the Community Recovery Hike, which will take place on April 27 at 11 am at Trout Lake. Lunch will be provided following the hike as will be well. For more information, visit our website.
Former Covert CIA Officer coming to Campus
Former Covert CIA Operations Officer Valerie Plame is coming to Boone for two events on April 29 and April 30. On April 29, "A Conversation with Valerie Plame, former CIA Spy" will be held from noon to 2 pm in the Grandfather Ballroom of the Student Union. On April 30, from 7 pm to 9pm, "Valerie Plame, former CIA Spy: My Story and Lessons Learned" will be held in the Blue Ridge Ballroom of the Student Union.
In the Honors Spotlight
Honors Takes Project Condom Win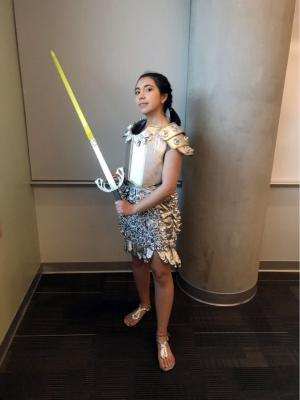 Top photo of Honors first-year student and Chancellor Scholar Cielo Gomez posing in the 'One Knight Stand' armor. Photo Submitted
On April 3, 2019, Appalachian Honors Association (AHA) entered Wellness and Prevention Services' Project Condom contest. Project Condom merges art and fashion while promoting safer sex behaviors for college-aged students. Based on the TV [MOU1] show Project Runway, teams of students had the opportunity to create and showcase garments made entirely of condoms. The purpose of Project Condom is to raise awareness about safer sexual health behaviors and issues and to decrease the stigma associated in an innovative way. The theme for this year's was "Caption This!" and AHA pursued a pun-filled approach. The AHA team created a suit of armor made of condoms. They titled the garment, "One Knight Stand" and dubbed it "the Ultimate Protection."
For more on AHA's Project Condom win, click here for the full story by Brad Rentz.
Emily Cluen ('18) learns the value of the Honors thesis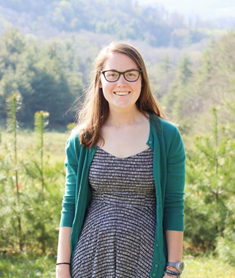 The top photo is a senior portrait of Emily Cluen taken at Thunder Hill Overlook, Boone, NC
in May 2018. Photo by Humble Confidence Photography.
Emily Cluen ('18) has been accepted to the graduate program in Student Affairs and Higher Education at Miami University in Oxford, Ohio, for the Fall 2019 semester. In Honors at Appalachian, Cluen majored in recreation management and earned minors in general business and leadership studies. She worked with Dr. J. Joy James, professor in Appalachian's Department of Recreation Management as her mentor on her Honors thesis. Reflecting on her Honors experience, she shares,
"I believe the most valuable aspect of my Honors College experience was my thesis. At times, the project seemed insurmountable, much too large for a twenty-two-year-old college student-worker to complete. However, writing, defending, and now presenting has shown me just how much I am capable of. Additionally, being able to choose a topic that truly interested me and complete the project using a method that many of my role models use was incredible. I could not have asked for more support or freedom in the work that I did."
For more on Emily's experience after Honors, click here for the full story.
To Stay in the Know and to Learn About All Opportunities in Honors, please visit https://honors.appstate.edu/announcements
Appalachian State Honors College on Social Media!
Check us out on Instagram also! Find us by searching "Appalachian Honors College"

Don't forget to "like" us on Facebook at Appalachian Honors: https://www.facebook.com/Appalachian-Honors-482157301971520/

Have news to share? Submissions to the Honors Wednesday Memo can be made by emailing honors@appstate.edu. Any content received by 5:00 p.m. on Thursday will be considered for the following week's issue.