Honors Wednesday Memo
Opportunities and Information for Honors Students
edited by Brad Rentz
Volume 2, Issue 9
October 17, 2018
Message from Dean Jeff Vahlbusch
Dear Honors students and friends,
Gratitude. One of the best parts of my job is thanking colleagues across the university who make the good work of the Honors College possible.
As many of you know, our 2018 cohort of Chancellor's Scholars just returned from their fall-break trip to Ireland. So many friends of Honors education helped them get there. Here's a selection: Chancellor Sheri Everts and Provost Darrell Kruger; Jess Yandow and Angela Mead in the Honors College; Christopher Lytle, Mark Hagen, and Dawn Arnold in the Office of International Education and Development; Leanna Brown and Scott Collier in the Scholarships Office; Adam McCourry and his staff in Financial Aid; Tim Burwell and Sonya Long in Academic Affairs; and Amy Sanders in Conference and Camp Services, who not only taught us how to pay the bills, but spent more than half her precious Sunday past picking up the tired Scholars at Charlotte airport!
Major thanks to veteran trip planner and leader Professor Mary Valante of History, and to trip co-leader Adrian Rice, Irish poet, doctoral student at Appalachian and first-year seminar instructor. And so, to each of you:
go raibh maith agat ("may you have goodness").
Jeff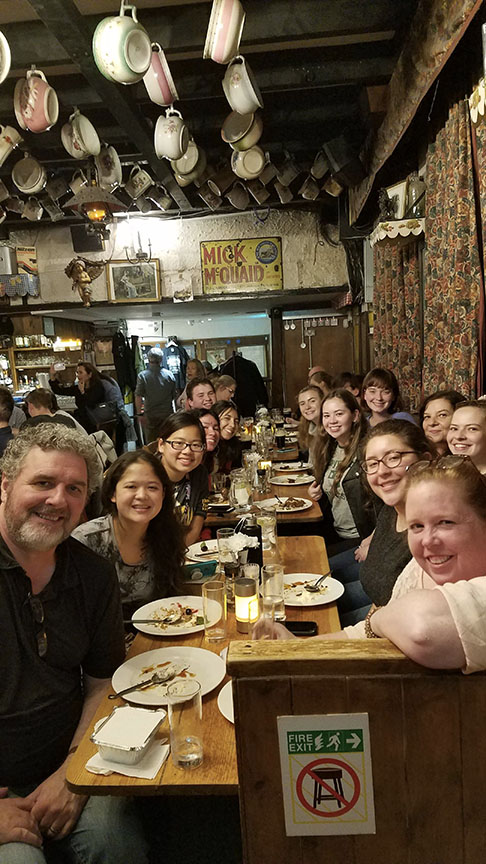 Photo features Professor Adrian Rice (left) and Dr. Mary Valante (right). Photo submitted.
Upcoming Opportunities:
Dr. Vahlbusch will be delighted to assist with applications!
Honors Faculty-led Study Abroad to Vienna
This summer study abroad program, Culture and the Arts in Vienna, consists of two interdisciplinary honors courses that study the art, literature, psychology, politics and music of Vienna from around 1700 to the present, with a focus on Fin de Siècle Vienna (1880-1917) and the effects of that time that still shape the cultural life of the modern city. The trip will begin on May 14, 2019 and end around June 3, 2019. Please visit https://honors.appstate.edu/faculty-led-study-abroad-culture-and-arts-vienna-hon-2515-hon-3515 for more information. Applications for other Honors study abroad trips like Ethiopia and Cuba are now open!
Learn About Data Visualization
You can still sign up for data visualization workshops held in Belk Library! The Intro to Tableau workshop will be held on October 22 at 3 pm and the Creating Infographics from Data Sets workshop will be held on November 14 at 3 pm. For more information, please visit https://honors.appstate.edu/come-learn-about-data-visualization-belk-library.
Inclusive Leadership Retreat
Registration for the Inclusive Leadership Retreat is now open! The retreat is focused on sharing Sustained Dialogue principles and the Dialogue to Action process to help participants gain skills in active listening and inclusive language. The retreat will take place in the Student Union from October 26 through 28. Please visit https://honors.appstate.edu/inclusive-leadership-retreat for more information.
Mint Museum Internship Program
The Graduate Research Assistant Mentoring (GRAM) Scholarship provides students with $12,000 per academic year for a 20 hour per week work schedule. All GRAM Program applications are due by October 28. Please visit https://honors.appstate.edu/gram-award-competition-2019-2021-deadline-october-28th for more information.
Undergraduate Honors Symposium Call for Submissions
The 19th Annual Undergraduate Honors Symposium presented by the Lloyd International Honors College at the University of North Carolina – Greensboro will be held on Friday March 1, 2019. If you would like your work submitted to this symposium please visit https://honors.appstate.edu/call-submissions-undergraduate-honors-symposium and submit by the December 20 deadline.
Stay in the Know…
AHA! will meet on 10/24 in the Honors College Library at 5:00
Gender, Women's, and Sexuality Studies Lecture Series
There are still three events left in this lecture series this fall! The next event, on October 25, is Cara Hagan an assistant professor of Dance Studies will present "Ode to an Unapologetically Free and Sacred Booty." The final event of this series will be help on November 29. For more information on this lecture series, please visithttps://honors.appstate.edu/gender-women%E2%80%99s-and-sexuality-studies-lecture-series-fall-2018.
Humanities Council Book Discussion Series
Elder Care Journey: A View From The Front Lines and Internal Medicine: A Doctor's Stories are the two book apart of this discussion series this fall. This first discussion will be held onOctober 17 and the second on November 8. Please visit https://honors.appstate.edu/humanities-council-book-discussion-series-fall-2018 for more information about this series.
Opioid Misuse and Addiction Among Older Adults
On Thursday, October 18 from 11:30 am to 12:45 pm, Nancy Orel will come to Appalachian and present for the Blue Cross Blue Shield of North Carolina 2018 Transforming Health Series. Her presentation will be held in the Dickson Foundation Lecture Hall in Leon Levine Hall room 103. For more information, please visit https://honors.appstate.edu/nancy-orel-opiod-misuse-and-addiction-among-older-adults.
The Schaeffer Center Presents
There are several events still remaining this fall that are coming to the Shaeffer Center! The next event is a recital from the North Carolina Symphony on this Friday, October 19, at 7 pm. For a complete list of upcoming events, please visit https://honors.appstate.edu/north-carolina-symphony-performs-cherokee-chamber-singers-and-appalachian-symphony-orchestra-oct-19.
Appalachian Leadership Forum (ALF)
The Appalachian Leadership Forum is a valuable conference geared to help you tap into your leadership potential. There will be over 40 presenters and have a variety of topics throughout the day. Some of the themes we have planned for this year are Org 101 (how to lead your organization), Innovation, Identity and Activism. For more information on this event, please visit https://honors.appstate.edu/appalachian-leadership-forum-alf-0.
In the Honors Spotlight
Chancellor's Scholars Trip to Dublin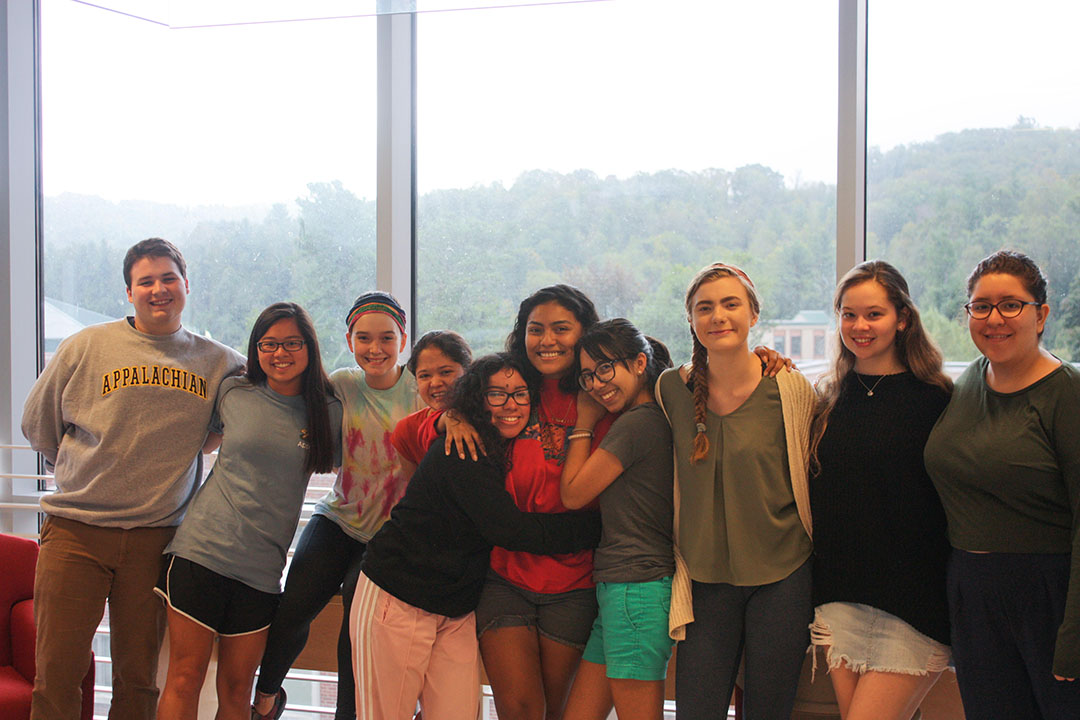 From left to right: Abraham "Abe" Krell, Rebecca Brown, Miranda Lowery, Gabrianne Ivey, Judith Espitia-Lara, Osonia Rojas Clavel, Cielo Murillo-Gomez, Olivia "Liv" Hall, Kate Keane, and Eloisa Sanchez. Photo by Brad Rentz
Over fall break, the 2018 recipients of the Chancellor's Scholarship embarked on a trip to Dublin, Ireland. While on their trip the students visited a Guinness brewery, the Book of Krells: National Museum of Ireland, Trim Castle, and much more. The students absolutely loved the trip and express desires to return to Ireland in the future so that they can experience even more of the culture and history. For more on the Chancellor's Scholars trip to Ireland, please visit https://honors.appstate.edu/news/chancellors-scholars-trip-dublin.
In Madrid Shelby Reagan Remembers Why She Joined Honors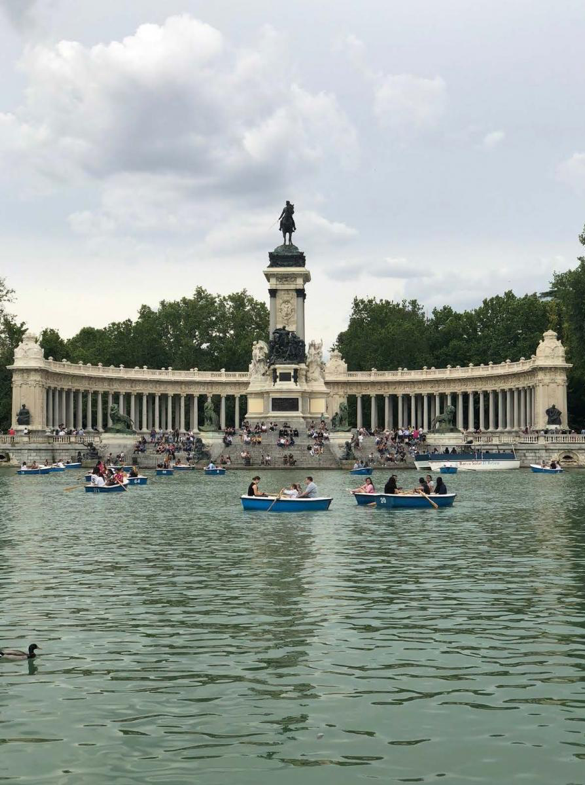 Photo above is from El Parque de Buen Retiro in Madrid. Photo submitted.
Honors Shelby Reagan spent a month this summer in Madrid, Spain, and described it as a life-changing experience. She explained,
"I was reminded why I joined the Honors College: to be surrounded by excellence, to achieve more than just what is expected, to experience new and unique opportunities that I might not otherwise be afforded, and most importantly, to better myself both as a student and as a member of society. It may sound cliché, but studying abroad in Spain changed my life. I am reminded of how much the world has to offer, and I am humbled at the realization that I will never stop learning."
Reagan is a rising junior political science major who is minoring in Spanish. On this study abroad she had the opportunity to live with a host family while taking two Spanish courses, one language conversation and one cultural elective. She described,
"Madrid became my home for an entire month. I stayed with a family who knew very little English, ate authentic Spanish meals, went to classes and on side trips with other ASU students who I had only just met, and saw parts of the city that were well off the typical touristy path. This trip was not only a learning experience in Spanish culture and language within the classroom, but also in the streets, in my host home, and in every waking moment I spent in the beautiful country of Spain."
For more on Shelby Reagan's trip abroad, please visit https://honors.appstate.edu/news/madrid-shelby-reagan-remembers-why-she-joined-honors for the full story by Garrett McDowell
Appalachian State Honors College on Social Media!
Check us out on Instagram also! Find us by searching "Appalachian Honors College"

Don't forget to "like" us on Facebook at Appalachian

Honors: https://www.facebook.com/Appalachian-Honors-482157301971520/
Have news to share? Submissions to the Honors Wednesday Memo can be made by emailing honors@appstate.edu. Any content received by 5:00 p.m. on Thursday will be considered for the following week's issue.